Range Rover Evoque SD4 2.2 diesel road test: A bit of posh living!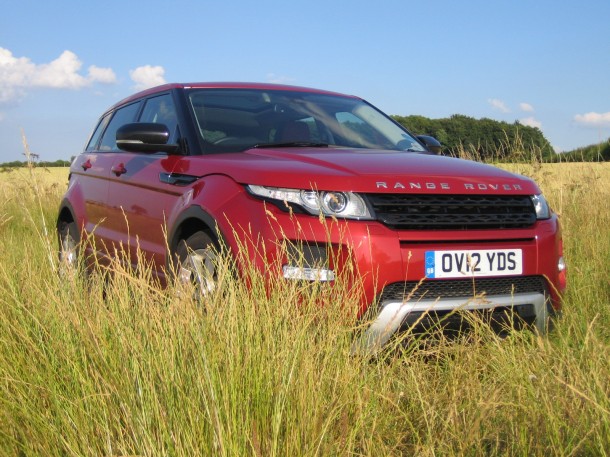 ROAD TEST REPORT AND REVIEW: Range Rover Evoque SD4 2.2 Diesel.  A "spiced up" Range Rover Evoque with all the toys. DAVID HOOPER enjoys a few days of posh living.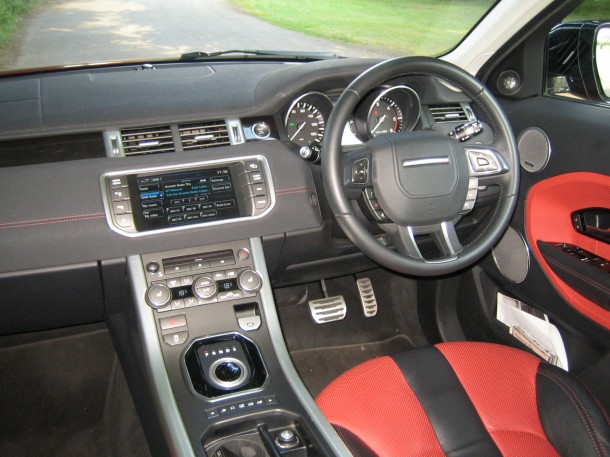 A RANGE Rover Evoque road test is always a pleasure, but this week's test car was something of a showcase for the marque.
It's no wonder that Victoria Beckham is a fan, as Land Rover has clearly "spiced up" this model and packed it with every gadget and gizmo you can think of.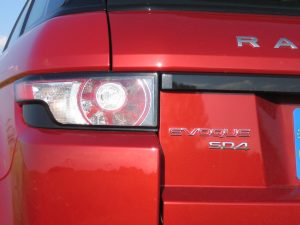 This Range Rover Evoque can even parallel park itself, which is not exactly new these days, several cars can do it, but seeing a steering wheel twirling away all by itself is still spooky!
Once neatly parked, you can watch television on the central monitor, listen to the DAB radio – I loved the Smooth 70s channel, or even connect your phone and watch your own videos.
You can make phone calls from your mobile which connects easily via Bluetooth, or play your music from your phone, play CDs – the options are almost endless. There was even a set of headphones in the glovebox so your passenger could watch the TV while the car is in motion, but the clever screen will only allow the passenger to see the picture, although the driver can still hear the sound if they wish. But its party piece could only be seen at night, when little lights under the door mirrors illuminate the area around the front doors – complete with an outline image of the car. So cool!
I think the Evoque is a fantastic looking car. You can have one with three or five doors and a choice of engine and gearbox combinations, but whichever model you choose, you're guaranteed to stand out from the crowd.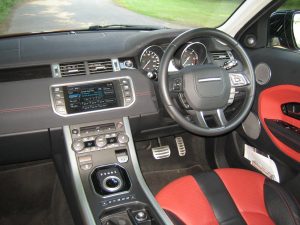 The Evoque isn't a particularly big car, but it does have the big car "feel" and gives away nothing in terms of quality to its larger siblings, rivalling the best you can buy on the market today.
The ride quality is excellent and the steering nicely weighted, adding to the Evoque's substantial quality feel.
My test car featured sumptuously upholstered red and black seats, with red stitching on the dashboard top, as well as red inserts in the door panels.
The "roof" as a full-length tinted glass panel which flooded the car with light when the electrically operated blind was fully retracted and was a lovely, if pricey feature which, along with many of the extras mentioned, comes as part of the £4,425 Lux pack.
The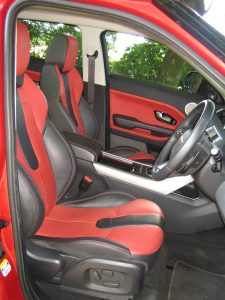 tailgate is power operated and can be opened from the driver's seat or via the key fob. The boot space isn't enormous, a family of five might struggle to pack enough stuff for two weeks' holiday, but it's plenty big enough for everyday use.
On the road, the Evoque drives beautifully. Powered by a 2.2-litre diesel engine, there is power aplenty for making good progress and it will cruise in near silence at motorway speeds, allowing its  occupants to enjoy the high-end Median hi-fi system.
The circular gear selector, borrowed from Jaguar, rises from the centre console when the start button is pressed, all done without the need to insert a key.
The driver has the choice of the normal Drive setting, or a Sport mode, and both allow manual gear changes via paddles mounted on the steering wheel.
For those who like to get down and dirty, the Evoque features the latest version of Land Rover's Terrain Response System. Having dispensed with a second dial selector, you now merely have to press a button to cycle through the various settings for green lanes, mud ruts, sand and snow etc, to prompt the car to adjust its set-up for the prevailing conditions. All brilliantly clever an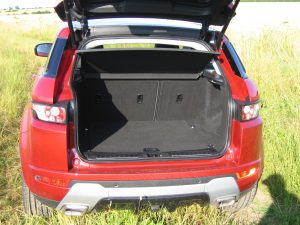 d simple to use – and while the Evoque isn't as serious an off-roader as the full sized Range Rover, or some Land Rover models, it will more than meet the requirements of most owners.
With all the kit on this particular car, it's not cheap, but it is very cheerful. I loved driving this Evoque and it was a pleasure to live with, although an average mpg figure of only 33.8mpg over a distance of 380 miles saw off a tankful of diesel, which suggests it won't be the cheapest car to run, but then if you can afford  the £40,000 asking price, the chances are that you won't worry too much about that.
The good news is that the range starts from £29,200, but that only gets you front wheel drive which should be enough if your car is more a fashion statement than serious off-roader.
One thing's for sure – if you buy an Evoque, you'll never get tired of its concept car looks.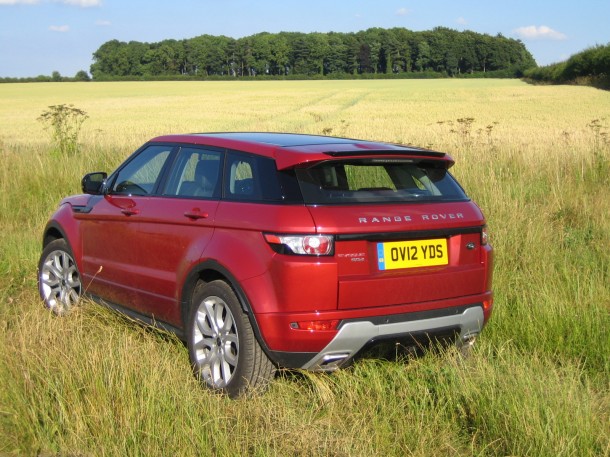 CLICK HERE and "Like" our Facebook page for regular updates and follow us on Twitter
Rating:






THE VITAL STATISTICS
MODEL: Range Rover Evoque SD4 2.2 Diesel.
RANGE ROVER EVOQUE RANGE: From eD4 Pure 5dr (£29,200) to Si4 Dynamic LUX Automatic 5dr (£44,935).
ENGINE: 2,179cc, 190bhp four-cylinder diesel engine, driving four wheels through 6-speed automatic gearbox.
PERFORMANCE: Top speed 121mph. 0-62mph in 8.0 secs.
ECONOMY: City: 36.2mpg.
Country: 49.6mpg.
Combined: 44.1mpg.
Fuel tank: 58 litres.
CO2 EMISSIONS: 174g/km.
PRICE: £41,505.
WARRANTY: 3 years/Unlimited mileage.
WEBSITE: www.landrover.com
• All data correct at time of publication.