New Saab 9-5 is ready for take-off
The new Saab 9-5 is a hugely important car for the Swedish manufacturer. wheelworldreviews Editor DAVID HOOPER finds out if it lives up to all of its pre-launch hype.
EVER wished you could be a fighter pilot? If you have dreamed of sitting in a cockpit and piloting a fast jet, but know your dream will never become a reality, buying a new Saab 9-5 really is the next best thing.
The new car from the Swedish company which makes fast jets, as well as fast cars, will get you as close as most people of a certain age can ever hope to get. Sink into the comfortable driver's seat and you are almost there, surrounded by a plethora of switches and dials which control the car's main functions. There is even a touch-screen display to programme in your destination, change radio stations, or select your favourite album from your MP3 player.
But for any would-be Saab pilots, there are two more treats in store – a head-up display which can project the car's speed, rev counter, cruise control setting, or sat nav instructions onto the windscreen in front of the driver in green lettering, while on the dashboard, the centre dial can display what looks like an aircraft's altimeter, but shows the car's speed instead of a plane's height. It looks brilliant, and I loved it.
Saab is already flying high, however, with its plans for the future. With new owner Spyker now in place, financial backing from the Swedish government and the European bank, the next mission in the carmaker's story is ready for take-off, with plenty to look forward to. The estate version of the 9-5, the Sportswagon, will join the range in July next year, followed by a new 9-4X Crossover model.
Then, in 2012, an all-new 9-3 range is in the pipeline, which as well as the saloon and Sportswagon models, will renew one of Saab's greatest successes, the 9-3 Convertible.
And in another important development, at the end of September a deal with German carmaker BMW to supply its 1.6-litre petrol engine was signed at the Swedish company's headquarters in Trollhattan.
As well as doing a good impression of an aircraft, the new 9-5 saloon I've been testing had a couple more notable tricks up its sleeve. The optional touch screen sat nav system will not only take you to your destination, but if your mobile phone is paired to the car via its Bluetooth system, it will even provide the phone number and ring it up for you, so if you're going to a restaurant, your table will be waiting for you when you arrive. It's all clever stuff, but most importantly, it's intuitive and easy to use.
Saab isn't known for changing its range of cars, but I have to say, this new 9-5 has been worth the wait. There are few cars I get excited about driving these days, but from the time  I saw the first press pictures of Saab's new flagship model, I have been looking forward to getting to grips with this one – and I wasn't disappointed.
In my opinion, it looks even better in the metal than it does in those carefully lit publicity pictures. You have to give it a close inspection to notice the subtle blue tinges to the light units, and the cleverly-styled Saab badging on its bootlid.
It's a big car, with plenty of room inside for five people to travel in the lap of luxury, and its huge boot will accommodate plenty of luggage.
The range starts from £26,495 with a 160PS 2.0-litre diesel engined model, while for those who prefer petrol, a high output 180PS 1.6-litre petrol is available for a couple of hundred pounds more.
Further up the range you will find a 2.0-litre petrol engine, with the model I have been testing, the V6, 2.8-litre version, sitting at the top of the range. Another interesting point worth noting is that AWD versions of the car are available with 2.0-litre petrol or diesel engines, as well as the top of the range model, so unlike some of its premium German rivals, slippery winter conditions won't pose any problems for Saab 9-5 drivers.
There are two trim levels from which to choose, Vector SE or Aero, and of course, a generous options list to make sure you can have your car just the way you want it.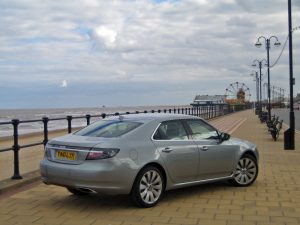 The start button, making its debut in the 9-5, is located in the same position as the key used to be, so will be familiar to Saab efficianados.
To drive, the new Saab 9-5 feels as special as it looks. Beautifully put together, there is no hint of a squeak or a rattle, the steering is nicely weighted and provides just the right amount of feedback to the driver, and travelling in this car is as smooth and as comfortable as it gets.
At motorway speeds, the interior of the car is impressively quiet with very little wind or road noise penetrating the interior, and in the V6 model I tested, the hushed tones of the silky smooth power plant are a delight to hear when you press the pedal towards the plush carpet.
As adept at cross-country sprints to get to that next meeting on time, as it is on a motorway cruise, the AWD system gives the new 9-5 an in-built feeling of security. Most Saab drivers will never explore the upper limits of this car's performance envelope, but even with its mighty 300PS fully deployed, the car handles in a predictable and safe way, and having despatched the 0-62mph sprint in a mere 6.9 seconds, is an engaging machine to drive quickly.
The diesel engined cars, although obviously not as potent, are just as capable in the handling department, with any engine noise kept to a minimum in the cabin.
The new Saab 9-5 then, is an undoubted success in my opinion. Beautifully designed and built to standards befitting a premium brand, the company's loyal customers, like me, will struggle to find anything to criticise in what is arguably Saab's most important new model to date.
Rating:








THE VITAL STATISTICS
MODEL: Saab 9-5 Aero 2.8T
SAAB 9-5 RANGE: From Vector SE 2.0 TiD (£26,495) to Aero 2.8T XWD (£37,795).
ENGINE: 2,792cc, 300PS V6-cylinder engine, driving four wheels through 6-speed manual gearbox.
CO2 EMISSIONS: 244g/km.
PERFORMANCE: Top speed 155mph. 0-62mph in 6.9 secs.
ECONOMY: City: 17.4mpg.
Country: 38.6mpg.
Combined: 26.6mpg.
Fuel tank: 70 litres.
WARRANTY: 3 years/60,000 miles.
PRICE: £37,795.
WEBSITE: www.humbersidesaab.co.uk