Mercedes Vito Sport-X great for work, rest and play!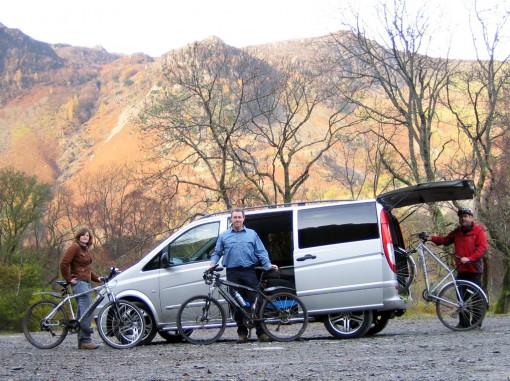 Versatile, practical and spacious DAVID HOOPER puts a luxuriously kitted out Mercedes Vito Sport-X Dualiner to the test in the Lake District.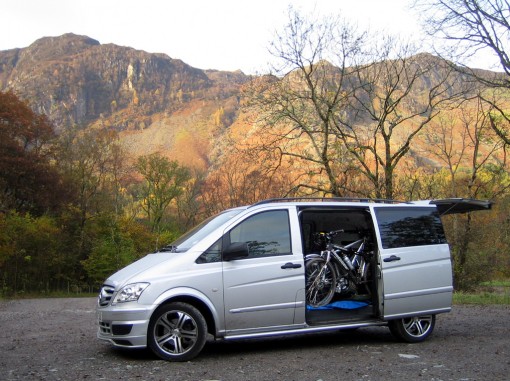 PRACTICAL family transport comes in all shapes and sizes these days, but not much can compete with the luxury and space to be found in this Mercedes-Benz Vito Dualiner.
There's no getting away from the fact that the Vito is a commercial vehicle, but few would argue that it's one of the best looking vans on the market, and in this specification with its dark-tinted side windows and Brabus alloy wheels, it certainly stands out from the crowd.
But perhaps more importantly, it's both easy and very pleasant to drive, as I discovered when I packed it to the gills with mountain bikes and walking gear and headed up to the beautiful Lake District for a week's R&R.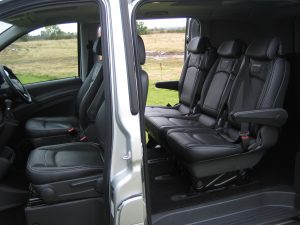 Open the doors for the first time in this Dualiner Sport-X model and you are met by two seats up front, and three more in the back, with each seat finished in leather with the trendy Sport-X logo stitched into the seatback.
Access to the rear seats is courtesy of sliding doors on either side of the vehicle, a handy attribute in a busy car park as eager rear passengers can't open their doors onto other vehicles.
Each of the rear seatbacks will fold down, and the rear set can all tumble forward or be removed altogether if you need the maximum space. Alternatively, you can just remove the single seat, leaving the other two, which come as a unit, in situ.
The Vito is surprisingly easy to drive, and very car-like in the way it handles, although the large tyres did create some road noise.
The high seating position gives you a great vantage point from which to admire the scenery over hedges and walls which would normally obscure your view, and once you get used to relying on just your door mirrors, driving the vehicle is as easy as driving a car. The Vito has an impressively tight turning circle, but without the parking sensors, which are a £435 option, it's handy to have a friend watch the back of the van when you are manoeuvring in a tight spot.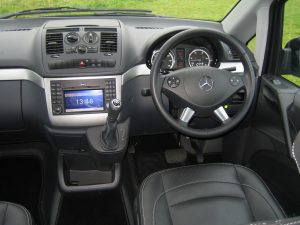 The Vito I've been testing came with a five-speed automatic gearbox which was so smooth I could hardly detect the gear changes, and in traditional Mercedes style, the parking brake is operated by a foot pedal. It even had an air conditioning system. The sat-nav system in this range-topping model I tested was standard kit, but a £1,425 optional extra in other models. It included a handy Bluetooth system to connect your phone with, which in my opinion, is almost a must-have accessory these days.
It is powered by a 3.0-litre V6 diesel engine, which gives the Vito a feisty 0-62mph time of just 9.1 seconds, which means it can be surprisingly good fun to drive on a cross-country trek, but if you prefer the motorways, the cruise control complete with speed limiter, is there to help out.
Despite its large engine and nimble performance, I was impressed with its fuel consumption. Driven gently, it approached 38mpg at times, while overall, it returned 34.2mpg over a distance of 452 miles – plenty good enough to put numerous cars to shame.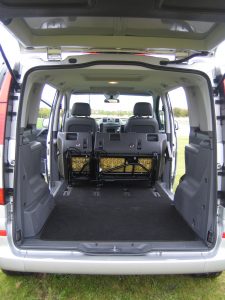 Access to the rear compartment is via a lifting rear door which can also be a useful shelter from inclement weather.
There's a huge amount of space inside, 2.6 cubic metres of it, if you can picture it, but if you can't it's more than enough to swallow mountain bikes whole if you take out the single rear seat. If you need all the seats, removing the front wheels of the bikes means they will all fit in side by side, or alternatively, they will fit in the back diagonally without having to tackle any dismantling.
There are numerous lashing points in the van's floor, which were ideal for attaching bungee chords to stop the bikes from moving around. It was a quick and simple job to lift them in and secure them.
The Vito Dualiner comes in two sizes, the Compact version tested here and a Long Van, which offers yet more space.
While it won't be everyone's cup of tea, if you run your own business it can make a lot of sense as you can claim back the VAT element of the purchase price as a business expense.
That way, you get the best of both worlds, a van to use for your work during the week, and a luxury family vehicle for exhilarating days out at the weekends.
I really enjoyed driving the Vito Dualiner – it's as comfortable to drive as a car and incredibly practical. It also proved its worth as a secure bike shed when we were out and about, and thanks to its dark tinted privacy glass, no-one can see what's inside.
Rating: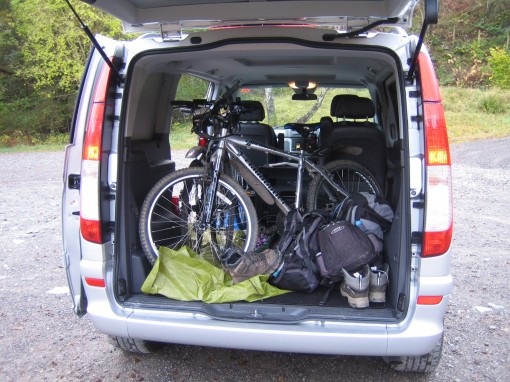 THE VITAL STATISTICS
MODEL: Mercedes-Benz Vito 122CDI Sport-X Compact Dualiner.
VITO RANGE: From 110CDI Compact (£21,216 inc VAT) to 122CDI Sport X Long Dualiner (£42,288).
ENGINE: 3.0-litre 224PS V6 diesel engine, driving rear wheels through 5-speed automatic gearbox.
PERFORMANCE: 0-62mph in 9.1 secs.
ECONOMY: City: 25.2mpg.
Country: 39.2mpg.
Combined: 32.5mpg.
Fuel tank: 75 litres.
CO2 EMISSIONS: 229g/km.
PRICE: £34,890 plus £6,978 VAT.
WARRANTY: 3 years/Unlimited mileage.
WEBSITE: www.mercedes-benz.co.uk
• All data correct at time of publication.