Auris hybrid is clever, but will it save you money?
ROAD TEST REPORT AND REVIEW: TOYOTA AURIS HYBRID
Hybrid technology is undoubtedly clever, but how economical are the cars in the real world. Editor DAVID HOOPER puts Toyota's new Auris Hybrid to the test.
OKAY, cards on the table. I have never been a great fan of hybrid cars, but having just spent a week piloting Toyota's new Auris Hybrid Synergy Drive model, I have almost been converted. Almost – but not quite.
The Auris hybrid's technology is undoubtedly brilliant. It is built at Toyota's Burnaston plant in Derbyshire, which is good for British jobs, and there are now several advantages in choosing a hybrid over a conventionally powered car.
The first, and the one most relevant to most buyers, is that you will pay no road tax. Thanks to its very low C02 emissions figure of just 93g/km, it sits very comfortably in Band A.
Buying an Auris hybrid would also make a lot of sense if you were a company car driver with around 20 grand to spend, as the BIK rates are very favourable.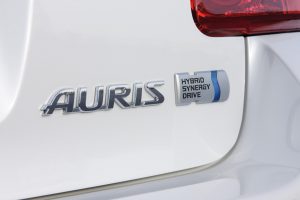 It is also competitive with its mainstream rivals in purchase price and depreciation costs, with prices starting from £19,945 on the typical 3 year, 60,000 mile cycle of company cars, with a residual value of 38 per cent. How much would it be worth as it gets older though, if you were its second, third or fourth owner, bearing in mind that the battery is guaranteed for the first eight years of the car's life. The rest of the car comes with a five-year, 100,000 mile warranty.
If you drive in London a lot, you would also be exempt from the Congestion Charge, but for those of us who live north of the Watford Gap, that is pretty much an irrelevance.
Then there is the economy, which I will come to later.
Hybrids are becoming more prevalent. For years there were just two main models, the Prius and Honda's IMA models, but now there is more choice available, with more new models on the way.
I remember driving one of the early Toyota Prius models and being impressed by its technology, but left cold by the car's looks. Frankly, it was ugly.
Then there was the debate about the production of the batteries for hybrids, mining the raw materials for the batteries, shipping them half way around the world to the factories, their relatively short life expectancy, replacement costs and disposal issues surrounding the old ones, which make the supposedly environmentally friendly hybrids look a lot less so – but that's almost a separate discussion.
Whatever you may think of the hybrid debate, the fact remains that fossil fuels are running out and we need an alternative power source for our vehicles. In 2011, a whole raft of electric cars are being launched, including the Nissan Leaf, which will eventually be built in Sunderland, but then there are issues with car's range and charging point infrastructure which will have to be overcome. The debate rages on . . .
Toyota's Auris hybrids employ a normal 1798cc, 98bhp four-cylinder petrol engine, and a 80bhp electric motor. Working together they combine to create a maximum power output of 134bhp. The Auris can run on battery power alone, but only at very low speed, before the petrol engine cuts in, and when it does, the car's overall economy is no better than many modern diesels can achieve. The use of air conditioning, lights, heaters etc. also affect the battery's ability to propel the car.
The driver can select three modes, EV, or electric vehicle, ECO, for economy, or Power, for, well, power, which brings me to another dislike, the car's CVT gearbox makes the engine sound like a swarm of bees when you want to get a move on.
In the rush-hour traffic, I selected EV mode, but with lights and the air conditioning running and the radio on, I didn't even travel half a mile before the petrol engine cut in as the battery got too low, but if you do sit in a lot of traffic jams, a hybrid comes into its own.
There are three Auris models from which to choose, the difference being trim levels and alloy wheel sizes, the running gear is the same.
The car is a proper five-door family hatchback, with a usable boot, the battery being built into the back of the car behind the rear seats.
The car is as easy to drive as any automatic, and on the road, all the driver has to think about is driving the car. The hybrid technology looks after itself, switching seamlessly, from battery power, to petrol power, or a combination of the two with absolutely no perceptible juddering as the power sources switch from one to the other. When you take your foot off the throttle, power is fed back to recharge the battery. It really is very impressive, and spookily quiet when the car is running on batteries alone. The handbook warns to take extra care for pedestrians or cyclists who may not hear the car coming. You can see which power source is being used via a display on the dash.
It's road manners are also good and the car's ride and handling is fine, although it did tend to "crash" over some of the worst potholes which are more like mine entrances at the moment.
When I got the car, I zeroed its trip meter and average fuel consumption figures and have done my best to be objective with this test to see if hybrids really are more economical than conventional engines. In the week I had it, I covered a distance of 307 miles which included plenty of town work and a 142-mile round trip to Spalding, in deepest Lincolnshire, on A roads. I was joined in the car by two large colleagues, representing two adults and two children. There was no motorway driving. The car averaged 46.4mpg overall in what I would consider to be typical family use during the week I had it. It's a long way off the 70.6mpg claimed by Toyota and it is a figure which could be easily matched or bettered by any number of the latest eco diesel powered cars, which come without the added concerns of battery packs and electric motors.
Hybrids cars would certainly benefit some motorists, if only for the fact that you would pay no road tax, but whether one would be right for you, only you can decide.
Rating:





THE VITAL STATISTICS
MODEL: Toyota Auris.
TOYOTA AURIS HYBRID RANGE: From T4 HSD 1.8 VVT-i 5dr (15″ alloys) 5dr (£19,545) to T Spirit HSD 1.8 VVT-i 5dr (17″ alloys) 5dr (£21,325).
ENGINE: 1798cc, 98bhp four-cylinder engine, plus a 80bhp electric motor and a CVT gearbox. Combined max power is 134bhp.
CO2 EMISSIONS: 93g/km.
PERFORMANCE: Top speed 112mph. 0-62mph in 11.4 secs.
ECONOMY: City: 70.6mpg.
Country: 70.6mpg.
Combined: 70.6mpg.
Fuel tank: 45 litres.
INSURANCE: Group 13E.
WARRANTY: 5 year/100,000 miles warranty. 8 years for hybrid battery.
PRICE: £21,325.
WEBSITE: www.toyota.co.uk
• All data correct at time of publication.