Audi's new A6 Avant is a very classy contender
More refined and better looking, with cleaner, more powerful engines, editor DAVID HOOPER roadtests Audi's new A6 Avant range.
AUDI'S new A6 Avant is in the showrooms now and is expected to attract yet more customers to the prestige German manufacturer which seems to be able to do no wrong.
While many car companies are struggling against the effects of the recession, Audi is reporting a 1.1-billion Euro first quarter operating profit – its best ever quarter which represents a 27% increase.
The A6 Avant is the best-selling car in its segment the world over and its sales in Europe are now ahead of its main German rivals from BMW and Mercedes-Benz.
We first saw the A6 Avant in 1994 when it replaced the Audi 100, which people of a certain age will remember well for its sleek lines.
The new model is the fourth generation of the A6, and I have to say I think it looks fantastic, with sharper styling, more refined and efficient engines and an options list that offers more choice than Tescos.
It is also 70kg lighter than the previous model, thanks to its steel and aluminium construction. The new A6 Avant does a tidy impression of a Tardis, thanks to an increased wheelbase and more width, yet despite having a lower overall height, manages to provide better headroom for its occupants.
Audi's exploits at Le Mans will be well known to motorsport fans, with the company having won the 24-hour classic 10 times since it started competing in 1999. Five of those wins have been with diesel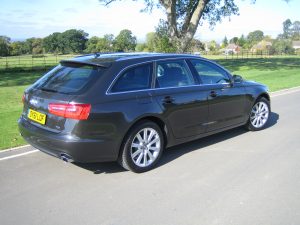 TDI powered cars which have most recently been running a V6 TDI engine.
That technology is now finding its way into the road cars we buy, and in February next year, a new V6 TDI bi-turbo engine with will be available – so that's something to look forward to.
In the meantime, customers have a choice of four engines, one petrol and three diesels. The petrol is the 3.0 TFSI with 300PS, while the four-cylinder 2.0-litre diesel, which is expected to be a big seller, comes with 177PS. The V6 3.0-litre TDI comes with either 204 or 245PS, with Quattro systems available on selected 3.0-litre models – perfect for the bad weather which is widely predicted to hit us in the next month or two.
The 2.0 TDI is the most fuel efficient model in the range, with a combined figure of 56.5mpg on the combined cycle. It will also hit 62mph from a standing start in nine seconds dead and has a top speed of 138mph, which is all quite respectable, but its C02 figure of 132g/km is impressive.
With three-quarters of sales expected to go to business user choosers, the packaging has been targeted accordingly. There are two trim levels, SE and S line, with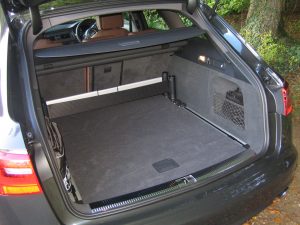 a price difference of £2,350 between the two grades, but with each car built to order, customers are encouraged to tick the options boxes to personalise their new vehicle to their exact requirements – and budget. Roof rails, 17in alloys, Milano leather upholstery, Audi Drive Select, parking sensors, Bluetooth, MMI navigation, two-zone climate and cruise control are all standard.
Audi's Drive Select programme allows the driver to choose between Auto, Comfort and Dynamic settings, depending on their mood, but now they have a fourth option. In typical German style it is called Efficiency, and does what it says on the tin, making the car as economical as possible to drive.
Prices for the range start from £32,100 on the road for the 2.0 TDI SE and rise to just under £43,500. This however, should be regarded as the starting point. The final price you pay depends on how many of those options boxes you tick.
I drove most of the model range during the launch exercise. The fit and finish is superb, as you would expect, and although quite different in character, all the cars are good to drive. But one particular model I tested stood out. It was a 3.0 TDI quattro SE, with an S tronic gearbox. The basic car cost £40,140, but had one or two extras specified – taking the final "on the road" price tag to an incredible, wait for it, £78,745!
For that, you get just about every conceivable extra you can think of – and a few you can't – but for me, the highlight was the most expensive item on the list, a Bang & Olufsen advanced sound system which costs £6,300. Worth the money? Probably not, but I have to say it sounded absolutely superb. The clarity and definition of the notes was like nothing I've heard before. In fact, I'll probably never hear anything quite like it again – my ears are still ringing!
Extravagant? Yes. Ridiculous in a car? Probably. But if money was no object, I'd have to have it – it was that good!
THE VITAL STATISTICS:
Model: Audi A6 Avant range
Trim grades: SE and S line.
Engines: 3.0 TFSI 300PS, 2.0 TDI 177PS, 3.0 TDI 204PS and 3.0 TDI 245PS.
Prices: From £32,100 OTR
In the showrooms: Now
Rating: