VW gives you a hide-ing for nothing!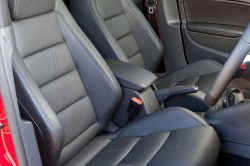 IT'S a question of hide and seek for the VW Golf… and you will find!
The German carmaker has given a boost to both the appeal and value of its Golf range as buyers ordering a GT, GTi, GTD or R variant now get leather upholstery free. And Volkswagen is also adding Bluetooth phone preparation to these four models, so purchasers end up with extra value to the tune of over £2,000.
Previously, anyone selecting the black 'Vienna' leather as an option would have had to fork out £1,890. And, just in case you think it's only a bit of leather, driver and passenger seats also have electric lumbar support and heating… a warming thought with the approaching winter.
GT, GTi and GTD models are fitted with sports seats with bolsters designed to hold occupants in place and the Golf R seats have deeper bolsters to keep an even firmer grip in the sportier model. Recaro sports seats are still on the options list for Golf R buyers.
The Bluetooth phone preparation, which would have cost £255 before, integrates compatible mobile phones with the car's in-car entertainment system, which means users can access many of the phone's features via the radio controls or the leather multi-function steering wheel fitted as standard. This upgrade is £140 on GT models but comes free on the GTD, GTi and R. GT prices begin at £21,310 with the GTD starting at £24,635 and GTi £25,305. The Golf R is priced from £31,420.
To find out more, contact your local dealer or visit www.volkswagen.co.uk/golf.