Top Gear Live takes to UK arenas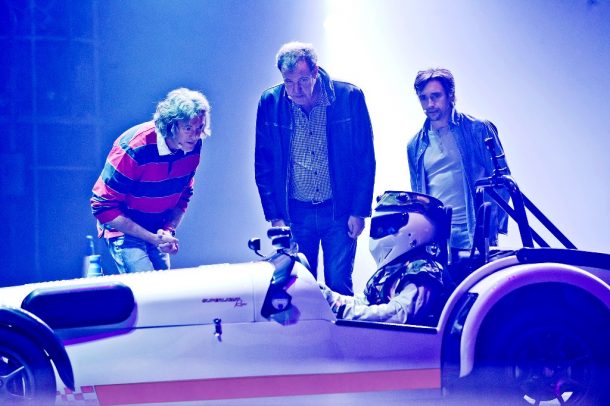 THE boys from Top Gear are going on a grand tour of the UK.
Top Gear Live, in partnership with Live Nation, announced today that it will embark on its first UK-wide arena tour with the presenters set to perform their latest and greatest stunts in arenas up and down the country.
The three amigos of Jeremy Clarkson, Richard Hammond and James May will bring to life the massively popular BBC2 TV programme.
Featuring breath-taking stunts, some of the world's most incredible cars and the usual calamitous mucking about, the Top Gear Live show has become a global phenomenon having played to almost two million fans in 22 countries. Aside from a short run of sell-out shows in Glasgow earlier this year, these will be the boys' first UK performances since 2012.
The action-packed 90-minute arena show will include exclusive, never before seen sequences as well as some firm fan favourites from their last 10 years of international touring. Top Gear fans can expect to see lots of fire, tyre smoke, some ridiculous stunts and a healthy dose of competitive spirit between Jeremy, Richard and James.
"Our Top Gear Live UK Arena tour is coming and I literally cannot wait. We'll have supercars, stunts, explosions and The Stig. Come and see Top Gear, but without the editing. What could possibly go wrong?" said Clarkson.
Speaking of the tour, James May said: "In the past, we've taken Top Gear Live all over the world, but this year we're taking it to Newcastle, Liverpool, Belfast, Sheffield and London. That way we'll remember how lucky we are to live in Britain."
Richard Hammond added: "It's all very exciting, taking our show on a tour of the UK. I suggested to the other two that we travelled around in a lovely old bus or something but they weren't keen. I think most of their answers ended in 'off'."
In just the past 12 months Top Gear Live has toured the world with spectacular shows in Moscow, St Petersburg, Glasgow, Budapest, Zagreb, Turin, Prague, Sydney, Barbados and Durban.
DATE VENUE PERFORMANCE TIMES
FRI 13 FEB 15 LIVERPOOL ECHO ARENA 7.30PM
SAT 14 FEB 15 LIVERPOOL ECHO ARENA 3PM & 7.30PM
FRI 20 FEB 15 NEWCASTLE METRO ARENA 7.30PM
SAT 21 FEB 15 NEWCASTLE METRO ARENA 3PM & 7.30PM
FRI 22 MAY 15 BELFAST ODYSSEY ARENA 7.30PM
SAT 23 MAY 15 BELFAST ODYSSEY ARENA 3PM & 7.30PM
FRI 05 JUN 15 SHEFFIELD MOTORPOINT ARENA 7.30PM
SAT 06 JUN 15 SHEFFIELD MOTORPOINT ARENA 3PM & 7.30PM
SAT 28 NOV 15 LONDON THE O2 3PM & 7.30PM
Top Gear Live tickets are on-sale from 9am on Friday, November 14 with prices starting at £35 (subject to per ticket charge plus order processing fee) and are available from www.livenation.co.uk. VIP Packages including Ringside Seats available at VIPNation.eu/TopGearLive
Full details can be found at www.topgearlive.co.uk. Fans wishing to book in advance of general sale can register here to access a special 'pre-sale promotion'.