SEAT unveils its latest Toledo hatchback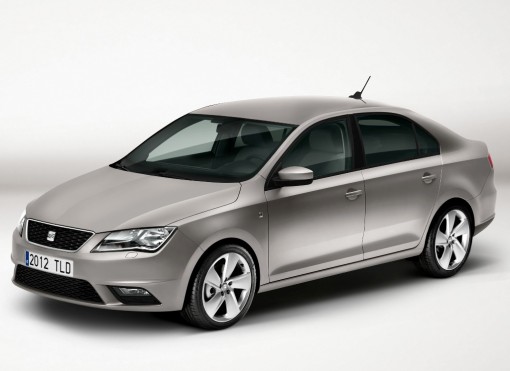 OLE! SEAT has today unveiled the latest incarnation of its Toledo model.
The elegant design offers real world practicality the hatchback follows the recipe that has proved popular for its forerunners. It comes with a choice of highly efficient TSI and TDI power plants.
And the new Toledo has a lot to live up to — the first two models clocked up more than 860,000 sales, based on its appealing design, practical nature and good build quality. Once again it offers generous space, a high degree of flexibility, outstanding efficiency and excellent value-for-money, the new Toledo appeals to customers seeking a practical, top-quality and affordable car for the whole family — without missing out on elegant design and dynamic driving fun.
"The new Toledo will write a whole new success story with its clear SEAT identity, its high quality standard and its extraordinary value-for-money," says James Muir, president of SEAT. "The Toledo combines great design with amazing practicality and dynamic driving fun with excellent efficiency. This is how we envisage the perfect saloon. Our customers will say: 'That is a great car at a great price!'"
The all-new Toledo will be launched initially in Spain and Portugal in mid-November and then in the UK in the first quarter of 2013.  Next to Spain, other key markets for the Toledo are Germany, Mexico and Turkey.
With a length of 4.48 metres, the new Toledo is four centimetres longer than its predecessor from 2004.  In contrast to the Toledo II, which was equipped with a conventional boot lid, the latest version of the model line — despite its saloon-like profile – comes with a large, wide-opening rear hatch.  The comparatively long wheelbase of 2,602 mm (80 mm longer than the Toledo II) delivers a generous feeling of space and plenty of legroom for all passengers.
The aesthetics of the new Toledo are a consistent development of the new SEAT brand design presented in the IBE, IBX and IBL concept cars.  And it proves that a five-door, compact hatchback can be exceptionally emotional, sporty and elegant.
It has a powerful and solid stance, with clear and precisely defined surfaces, lines and edges.  The broad, angular headlamps are a feature of the brand's current design DNA.  Together with the trapezoidal, extremely slender grille, the lower air intake and the horizontal rear light clusters, they bring added visual breadth to the car.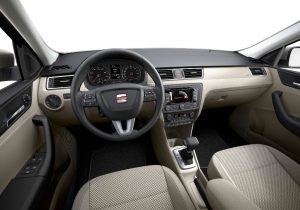 "The new Toledo is a timeless personality.  It combines classically modern lines with understated sporting character and a high level of everyday practicality.  It is the SEAT among saloon cars, with excellent design quality in every detail," says Alejandro Mesonero-Romanos, head of SEAT Design.
As a completely new model, the Toledo makes use of the very latest Volkswagen Group engines.  At the pinnacle are highly efficient TSI petrol engines in 1.2 and 1.4 displacements, and a 1.6 common-rail TDI unit.  A seven-speed dual-shift gearbox (DSG) is offered in combination with the most powerful petrol variants.  The petrol engines generate between 55 kW (75 PS) and 90 kW (122 PS); the petrol Ecomotive version boasts CO2 emissions of just 116 g/km.  The Ecomotive version of the TDI diesel engine — which produces 77 kW (105 PS) from a displacement of 1.6 litres — also offers a best-in-class CO2 figure of 104 g/km.  During 2013, SEAT will expand the Toledo diesel line-up with a 66 kW (90 PS) TDI variant.
The standard safety package for all SEAT Toledos includes driver and passenger airbags, front side airbags and head/thorax airbags.  The base model also comes with central locking, a two piece folding rear bench and power windows in the front.  The more extensively equipped Reference and Style versions offer additional extras in comfort and design.
Full UK pricing, specification, engine and model line-up details for the new Toledo will be revealed closer to its on-sale date early in 2013.