Quick make-over for Aston Martin Rapide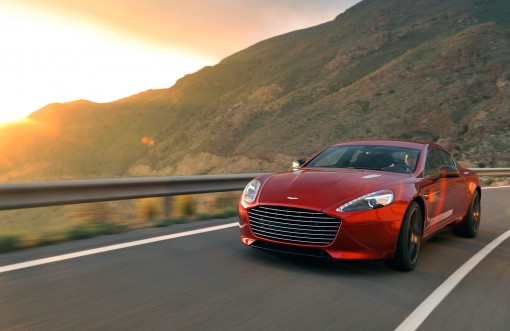 A MERE three years on from its launch, Aston Martin's luxury, four door saloon is being given a major facelift.
This seemingly rapid make-over for the much-vaunted Rapide may not go down too well with the well-heeled buyers who shelled out £150,000 or more for the original … for the changes are extensive – and not just confined to cosmetic tweeks.
They will reason, perhaps rightly, that this is the kind of thing you might expect from a volume car maker and not from a company which produces some of the world's rarest and most sought-after luxury sporting cars.
Now to be called the Rapide S, the latest model comes with extensive changes to the original sleek design plus numerous engineering improvements, not least of which is the fitting of a new, naturally-aspirated six-litre, V12 powerplant providing 17 per cent more power than the original engine as well as significantly more torque, particularly at lower engine speeds.
This new engine shaves 0.3 seconds off the 0-62 mph time, down to just 4.9 seconds, with top speed increasing to 190 mph. It also provides improved economy – up to 19.9mpg on the combined cycle, compared with the outgoing car's 19 – and lower CO2 emissions, which drop from 355 g/km to 332 g/km.
The latest V12 sits 19 mm lower in the Rapide's engine bay, bringing the big car's centre of gravity closer to the ground with resulting gains in dynamic performance. The changes also lead to a tangible improvement in front end turn-in, says Aston Martin.
The Rapide's dynamic stability control (DSC) system has been tweeked to cope with the increased power and torque with the three settings – Normal, Sport and Track – specifically tailored to the nature of the Rapide S.
It's still instantly recognisable as an Aston Martin, but the new Rapide S has been given what the designers call an "imposing and assertive new face", dominated by a striking new grille which stretches virtually the full width of the car and almost to the bottom of the front air dam.
Meanwhile, the rear view features a new rear deck profile which includes a more pronounced boot lid 'flip'.
Inside, there are no major changes, but this latest model comes with a number of new luxury or sports orientated options, designed to allow buyers to more precisely tailor the car to their specific style.
The new Rapide S will be available to order from next month but prices have yet to be confirmed.