Powered by your smartphone's connectivity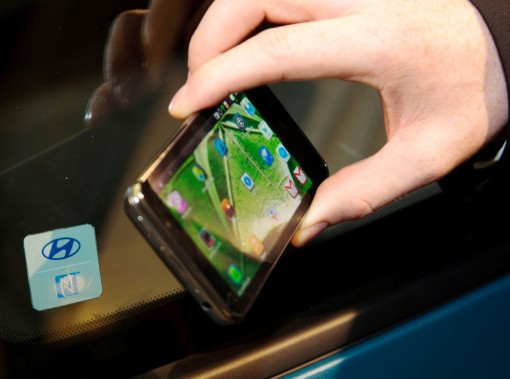 FORGET a mobile phone being for calls, texts etc — Hyundai has something else in mind for today's smartphones.
Not content with Bluetooth connectivity and keeping in touch, the Korean manufacturer is utilising the power of modern smartphone operating systems.
The company has previewed the prototype of its Connectivity Concept in Frankfurt, Germany. The technology displays its expertise in the field and aim to put it into its range of cars in around two years time.
Hyundai chose to unveil the system in its award-winning New Generation i30. The system allows users to lock and unlock the car with their smartphone by placing it over a Near Field Communication (NFC) tag, eliminating the need for a traditional key fob.
Once inside, the device is placed in the centre console, which then activates the user's profile by streaming content to the i30's seven-inch touchscreen. All user content such as music, phone contacts, radio station preferences and individual profile settings are displayed. In addition the device's battery is recharged wirelessly while in use.
Allan Rushforth, senior vice-president and chief operating officer Hyundai Motor Europe, said: "Hyundai's Connectivity Concept showcases the brand's philosophy of making tomorrow's technology accessible to a wide range of customers.
"With this technology, Hyundai is able to harness the all-in-one functionality of existing smartphone technology and integrating it into everyday driving in a seamless fashion.
"As the technology continually develops there will be capabilities to store driver's seating positions and exterior mirror settings, providing customers with a comfortable and individual driving environment."
Multiple users can be synced with car, meaning set-up is quick and easy as the Connectivity Concept in the i30 tailors in-car settings according to each driver's smartphone.
Furthermore, the Connectivity Concept utilises MirrorLink to wirelessly access and control personal content through the touchscreen including navigation, internet-based applications and multimedia.
Hyundai has already announced a joint development agreement with Broadcom Corporation, which will power the next generation of connected cars. With this technology, functions such as infotainment, telematics and other driver assistance systems like reverse parking cameras and lane departure warning will be integrated into Hyundai's cars.