OX aims to be workhorse of Africa
DESPITE the fact that 10 per cent of the world's population lives in Africa, it has not received the attention from the world's major vehicle makers that perhaps it should have.
None of them have taken a look at what the continent needs and how those needs can be serviced and encompassed.
True, there have been many success stories such as Land Rover and the Toyota Landcruiser, but no one has designed a vehicle specifically to cope with the rigours and trials of driving there.
However, that situation is about to change with the development of the OX, a highly unconventional 'flat-pack' all-terrain light truck that could benefit people living in remote villages and townships across Africa and other parts of the developing world.
Designed and built in Britain, the OX is unlike any other vehicle and has no competitor – whether from a concept, performance or pricing point of view. It is the result of the Global Vehicle Trust's (GVT, www.globalvehicletrust.com) ambition to help people in the developing world by providing cost-effective mobility for communities to undertake crucial daily tasks, such as collect drinking water and transporting grain, fertilizer or building materials.
Simplicity is the guiding principle behind every aspect of the OX, and notably it is the world's first flat-pack vehicle. Most panels are interchangeable from one side to the other, while the fewest possible components are used to give it a fast build-up time. It takes three people approximately 5.4 hours to create the flat pack in the UK prior to shipping. It then takes three people 11.5 hours to assemble the vehicle from flat pack at its destination and no special skills or equipment are required.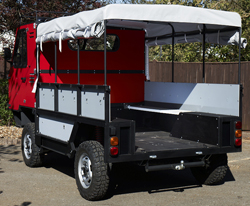 The revolutionary nature of the OX programme extends beyond the vehicle itself and uniquely, OX is capable of being flat-packed within itself. That means there is no requirement for an expensive box or individual pallets for transportation, ensuring freight costs can be kept to a minimum. Six OX vehicles, including engines and transmissions, fit into a standard 40ft hi-cube container. In addition, assembly labour is transferred to the importing country, where local professional companies will be found to assemble and maintain the finished vehicles.
OX can drive through 75 cm depth of water and has a very wide track to ensure excellent stability on badly rutted roads. Maximum payload is 2.0 tonnes (twice the capacity of most current pick-ups) and following EU size guidelines, OX can seat up to 13 people or carry eight 44 gallon drums or three Euro pallets. It has a simple power take-off capable of pumping water, sawing wood or running a generator.
Designed to be at home on the roughest terrain, the OX has a high ground clearance and short front and rear overhangs to tackle the steepest inclines. Independent suspension, front and rear, allows easy transit over rough ground, while the uncluttered underside ensures that sand, mud and other hostile surfaces do not obstruct progress.
With an overall length similar to an average family car, the OX weighs just 1.5 tonnes. It has front-wheel drive and is powered by a robust 2.2 litre diesel engine with a manual transmission. Unladen, 73 per cent of the OX's weight is over the front axle and when fully loaded 53 per cent is still over that axle. This contributes to excellent traction in both conditions.
The driving force behind GVT and the OX is Sir Torquil Norman, founder of the Norman Trust which raised more than £30-million to transform the Roundhouse in Camden Town into a media skills training centre and one of London's most popular venues.
"My inspiration for the OX goes back to the 'Africar' project of the 1980s. OX became a dream three years ago and is now a realistic ambition with a working prototype that has already completed its initial testing programme," says Sir Torquil Norman.
"Our sole objective at GVT is to help people in the developing world. As part of an aid programme, the OX could provide an essential element of infrastructure to enable the local population to raise the community's standard of living and to assert its independence by gaining control of its transportation needs and costs. The OX could also be an enormous help in transporting medicines, doctors, patients and other materials in emergencies and at times of natural disaster."
"We have spent around £1 million bringing the OX to the working prototype stage and we need a further £3 million to take the project through to a production-ready status," said Sir Torquil. "This is why we are now 'going public' to highlight the need for investment and support in order to progress the project to completion.
"Feedback we have had so far from contacts in Africa and with aid agencies has been very positive. As this is a not-for-profit endeavour we are seeking philanthropic supporters. OX is about making a difference now, being part of something ground-breaking, something unique. Most of all it presents a real opportunity to make a fundamental and lasting difference to people's lives.
"Our priority now is to raise the funding to complete the testing and take the project to fruition. Our aim is that the OX will be purchased by charities, aid organisations and development programmes, rather than private individuals. My dream is to one day see an OX in every village in Africa," concludes Sir Torquil.
Although initially planned and designed for developing countries, there has subsequently been a realization that there is likely to be demand for fully-assembled vehicles in some European markets. It is anticipated that OX will appeal to farmers, estate owners and others due to its huge carrying capacity and ability to traverse rough terrain. Any profits generated by selling fully-assembled vehicles in Europe will be ploughed back into the Global Vehicle Trust charity to fund future developments of the OX.