Orders being taken for Citroen's DS flagship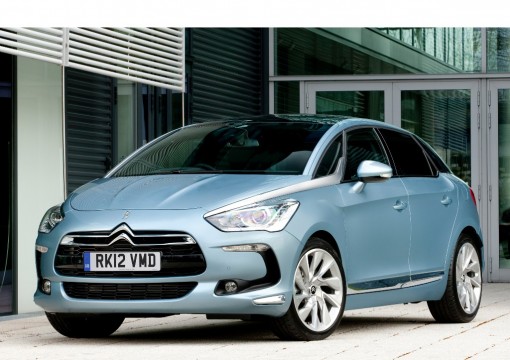 CITROEN'S flagship of the DS range, the DS5 is available for pre-order in showrooms now.
Born from the C-SportLounge concept car, the French carmaker has packed the model with innovative features and carried on the bold design theme of the DS range.
Refinement and safety are two key factors in this executive car with its striking looks. The DS5 comes in three variants all of which have been designed for day-to-day driving pleasure.
The front end instantly identifies the car's DS lineage with its pronounced air-intakes, chrome grille and incisive 'gaze' underscored by LED light signatures. At the rear, DS5 sits squarely on wide tracks, underlined by chrome-finished twin exhausts and rear clusters with six light guides.
The flowing body contours come in a range of eight colours and with six alloy wheel designs! Chromework can be ordered in a smoked version called Dark Chrome.
Inside, the cabin's standout feature is the sweeping cockpit roof, with pilot-style overhead switchgear. The large glass roof is divided into three areas and features individual electrically operated sunblinds. The driver-focused cockpit fuses the driving position of a coupé with the finesse of a Gran Turismo. Highlights include a wraparound dashboard and wide central console, both ergonomically positioned.
There is plenty of space on offer, indeed the central console has a 13-litre double compartment under the armrest with audio and USB ports for connecting and concealing mobile devices.
The DS5 has a plethora of active safety equipment (EBD, EBA, ABS, ESP, intelligent traction control) and powerful brake. It is available from launch with a choice of four refined and efficient Euro V engines – THP 200, e-HDi 110, HDi 160 and the new 200bhp diesel electric Hybrid4.
The e-HDi 110 Airdream features new-generation Stop & Start micro-hybrid technology that reduces CO2 emissions by up to 15 per cent when driving in congested urban areas. The turbocharged, direct injection petrol engine, co-developed with BMW, delivers enjoyable power and performance.
All powerplants are mated to either manual, automatic or EGS six-speed gearboxes.
A first for Citroën, the DS5 is fitted with Hybrid4 technology. The innovative system delivers outstanding performance and low CO2 emissions from just 99g/km. Hybrid4 offers financial benefits to both retail and business customers in addition to the impressive fuel economy. The sub-100g/km CO2 model is exempt from VED, the London congestion charge and, for business users, the BiK tax rate is just 10 per cent.
DS5 ownership starts at just £22,400 for the e-HDi 110 DSign, rising to £32,200 for the range-topping Hybrid4 DSport. The most popular models are forecast to be the HDi 160 DStyle manual and automatic versions.
New Citroën DS5 is available to pre-order now, with first deliveries from the official 'on sale' date of April 2.