Here's 007 reasons to motor out at half-term!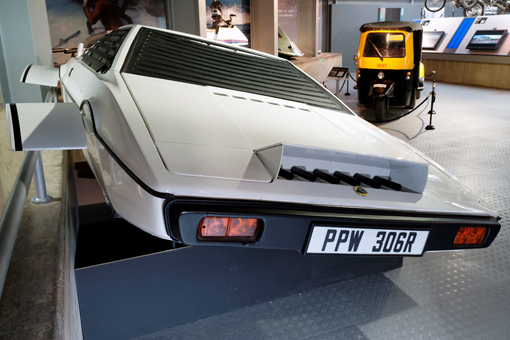 LOOKING for something to occupy the children during the upcoming half-term?
Well, for children of all ages and sexes, Beaulieu is offering special activities with the whole family in mind.
From May 25 to June 2, you can enjoy all the usual features of the visitor attraction but also have extra fun with Giant Games!
Balance blocks in a towering Jenga game, get tactical with giant-sized Noughts and Crosses and test out your logic skills with larger than life Connect Four.
Visit the National Motor Museum and see over 250 vehicles on display, including Land Speed Record Breakers, F1 race cars, family cars of the 30s and 40s, plus rare motoring oddities such as a giant orange on wheels.
Younger visitors can follow a Quiz Trail through the museum's Bond In Motion exhibition, the largest ever display of original James Bond vehicles. Answer the questions, crack the code, and hand in your completed quiz sheet for the opportunity to be entered into a draw to win a Bond-themed prize. See some of Bond's most popular and iconic vehicles, including the Lotus Esprit S1 'submarine' car from The Spy Who Loved Me, the quirky Crocodile Submarine used in Octopussy and the Die Another Day Aston Martin Vanquish with 'adaptive camouflage system'.
On Sunday,  May 26, actor Richard Kiel, who played famous Bond villain Jaws, will be at Bond In Motion meeting and greeting visitors. Richard starred in 'The Spy Who Loved Me'and 'Moonraker' and at a towering seven feet and 1.75 inches tall, was famously recognisable for his razor sharp steel teeth.
Visitors will be able to purchase Richard's autobiography, 'Making it Big in the Movies' plus copies of his official photographs. He will happily sign purchases and pose for a photograph, so don't forget to bring a camera!
Richard will be accompanied by Blanche Ravelec, who played his true love 'Dolly' in 'Moonraker' and they will be signing for periods between 10.30am and 4pm.
Visit World of Top Gear to see actual vehicles created by presenters Jeremy, Richard and James during some of their most memorable challenges, including two from the latest series; Richard and Jeremy's exploding 'Grannymobile' and the P45 micro car driven through the British Library by Jeremy.
The 'Enormodrome' recreates the feel of the Top Gear studio with regular features from the programme, including the Cool Wall and the Celebrity 'Lap Times' board, kept up to date in line with the show. Visitors can also watch behind-the-scenes footage of the Top Gear production zone and clips of some of the best Top Gear moments.
Take a ride on the high-level Monorail or hop onboard the open-topped veteran London bus for a different way to explore the grounds.
See Palace House, home of the Montagu family since 1538 and discover the history of 13th century Beaulieu Abbey in the Domus Exhibition of Monastic Life.
All-inclusive attraction admission tickets can be bought on the day of your visit, or take advantage of the 10 per cent discount offered on tickets bought in advance online at www.beaulieushop.co.uk
Beaulieu is open daily, 10am to 5pm. For more information, visit www.beaulieu.co.uk