Light, agile and one for the future?
A RADICALLY shaped electric car with low cost appeal to younger drivers is to be unveiled by the Vauxhall and Opel arms of General Motors.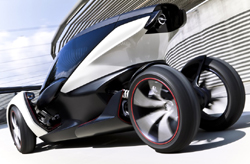 The striking concept car could be put into production and it is claimed could revolutionise town and city driving.
The battery-powered electric car is designed to be very affordable. With a 60-mile range and said to be capable of reaching 75mph, even a short motorway trip could be achieved.
Although it looks very different and futuristic, it is designed with practicality in mind. It is a two-seater, set in a tandem layout, and as it is extremely light (around a third of most small cars currently in production) it should be quite nippy and agile.
The project was inspired by the warm welcome received by the Ampera and it is hoped that it will be the first of a new class of zero emission electric vehicles in Europe.