Is this the perfect commuter vehicle?
IN a classic case of less is more, German designers have come up with a radical concept car.
Called NILS, the electric car is a single seater and offers a peek at minimalist mobility.
They were clearly excited about it because, although it is due make its public debut at this month's Frankfurt Motor Show, they couldn't wait and have released details now!
The vehicle has an aluminium space frame and gull wing doors and it claimed to have the performance of a sports car but with zero emissions and silence.
The project has the support fo the German Federal Ministry of Transort, Building and Urban Development and it not meant to be just a showcase, but be easily turned into an economic reality.
"'NILS anticipates the future.  The goal of the project is to research a technically realistic and economically feasible minimalist commuter vehicle that makes individual transportation more efficient and eco-friendly thanks to its electric drive," said Prof Dr Jürgen Leohold, head of Volkswagen Group Research.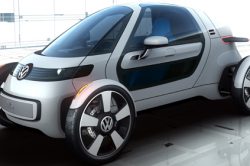 With a range of 65 kilometres (40 miles) and a top speed of 130 km/h (80 mph) NILS would be the ideal vehicle for the majority of commuters in Germany.  According to the German Bureau of Statistics, 73.9 per cent of all commuters residing between Berlin and Munich cover less than 25 kilometres (15.5 miles) on their way to work.
NILS is a very compact car that requires extremely little space in traffic.  It is only 3.04 metres long – making it about 50 cm shorter than the new Volkswagen up! – just 0.39 metres wide from wheel to wheel, and a mere 1.2 metres tall.
NILS has the same basic layout as a Formula 1 race car, with the driver in the middle, the engine in back, and free-standing outboard wheels. 
The car's electric motor has 15 kW nominal power and short-term peak power of 25 kW.  A lithium-ion battery supplies the electric motor with energy.  The battery capacity (5.3 kWh) enables driving ranges of up to 65 km, depending on the style of driving.  A battery of this size is relatively inexpensive, and can be charged either via a conventional 230-volt electrical outlet (maximum charging time two hours) or at an electric vehicle charging station.
The motor, battery and all other components are so compact that there is still space for a small but practical bootspace.  The body-coloured area above the rear lighting module swings upward, revealing space suitable for items such as a case of drinks and a bag. The aluminium space frame body was designed to be a highly effective safety cell.  The body in white is produced from extruded aluminium, cast aluminium and sheet aluminium.  The roof frame together with the door mounts, a roll bar, the bootspace and the front bulkhead consist of high-strength sheet aluminium.  Extruded aluminium is used in the side sills, the transverse profiles and the front and rear car sections.  The front and rear side body are aluminium.  Parts made of high-strength plastic include the bumpers and the trim panels on the side sills.