Infiniti sports saloon set for debut in Geneva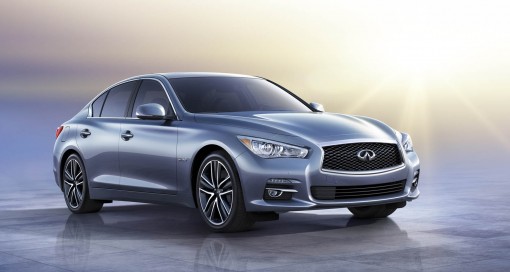 INFINITI'S new Q50 sports saloon, which marks the start of a new generation of models from Nissan's prestige brand, will make its debut at the Geneva Motor Show.
The Q50 for Europe includes the first fruits of the co-operation agreement with alliance partner Daimler, and technical details will be revealed at the show.
Making its first public appearance outside the USA, where it had its world debut in Detroit in January, the Infiniti Q50 heralds a new design direction for the Infiniti range.
All will in future display a Q for saloons and coupes or QX badge for crossovers and SUVs.
Infiniti says the Q50's design leans both towards the marque's sports saloon past and the concept car trilogy of Essence, Etherea and Emerg-e design studies revealed at previous Geneva shows.
The newcomer, which will also feature the world's first Direct Adaptive Steering technology, will be displayed alongside Infiniti's first 100 per cent electric car and world champion Sebastian Vettel's Formula One machine in its 2013 livery.
Infiniti vice-president Bernard Loire said: "The Q50 is a world class sports saloon with an engine line-up that will clearly demonstrate its intentions to be a major player within the European premium market."