What a FAB1 act of generosity from Rolls-Royce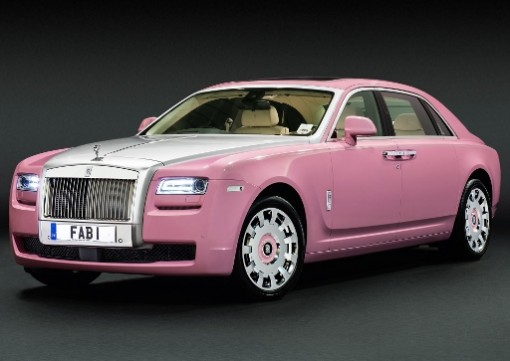 THE world's most prestigious car company has come up with a fabulous effort to support charity.
Rolls-Royce Motor Cars proudly has presented FAB1, a Rolls-Royce Ghost Extended Wheelbase looking pretty in pink, to support FAB1 Million and Breast Cancer Care.
The FAB1 Million project, headed by Chris Evans, has the aim of raising £1-million for Breast Cancer Care through making this bespoke Ghost available to hire over the next 12 months.
This extraordinary car will make appearances at exclusive events as well as being available for hire for any special day, with all proceeds directly benefiting Breast Cancer Care.
In support of this exciting project and very worthy cause, the Rolls-Royce Bespoke team has prepared a very special motor car, combining numerous exclusive bespoke elements, from pink accented umbrellas, to hand-embroidered headrests featuring the Breast Cancer Care pink ribbon motif.
Further enhancements include unique 'FAB1' treadplates and a Blushing Pink and Crème Light interior leather scheme. An uplit Spirit of Ecstasy adorns the silver satin bonnet.
In addition to providing a superior ride experience and ample legroom, the passenger experience of this exceptional Ghost Extended Wheelbase is enhanced with hand veneered picnic tables, 9.2 inch LCD screens and a champagne coolbox.
Passengers will be able to relax with a chilled glass of champagne, indulge in a concerto, courtesy of a 10-channel amplifier and 16 speakers delivering 600 Watts of surround sound, or simply sink into sumptuous leather seats and lambswool footmats, relaxing into luxurious silence as they journey to their destination.
"When I received the call from Chris Evans to support FAB1 Million, we immediately sprang into action," said Jolyon Nash, sales and marketing director.
"It's taken countless hours to create such a special car but every minute spent is absolutely worth it for such a valuable cause. We wish the project every success The project began yesterday (April18) with a star-studded point-to-point drive in FAB1 from Land's End to John O'Groats.
For more information please visit www.FAB1Million.co.uk or email FAB1@thescarletlife.com.