Continental's high performance tyre
THE ContiSportContact 5 P is the latest generation ultra high performance tyre from Continental.
Sports car drivers need to be able to drive safely on both wet and dry roads and as their only contact with the road, the high-tech tyres fitted to these vehicles must provide maximum support.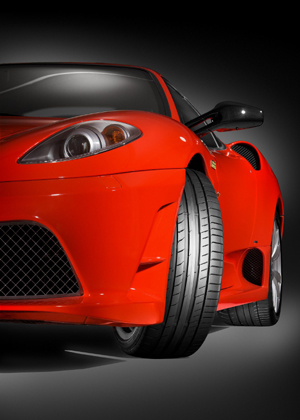 Continental's tyre developers found new solutions for the composition of the tread compound and the reinforcing material in the new ContiSportContact 5 P tyre. New carbon blacks and resins were introduced into the compound to support the flexibility of the rubber – important for good traction – and the rigidity of the tyre – important for handling.
Continental's latest high-performance tyre features a large number of small tread blocks on the middle and side areas of the tread, resulting in a large number of transverse edges on the tyre surface. These transverse edges cut through the film of water on the road like a windscreen wiper, quickly diverting water away from the tread blocks.
A hybrid reinforcing material was developed to further enhance both characteristics of the tyre. Instead of using nylon in the carcass, as is typical for sports tyres, Continental's engineers decided on a mixture of aramid and nylon threads. The combination of both materials further improves the flexibility and rigidity of the tyre's contact area, ensuring that steering and braking commands are transmitted from tyre to road even more safely and directly.
The ContiSportContact 5 P is already OE approved on the following vehicles; the Renault Megane III Sport RS, the Audi TT RS and the Mercedes AMG C-Class and E-Class.