Chris Evans confirms CarFest 2014 dates, venues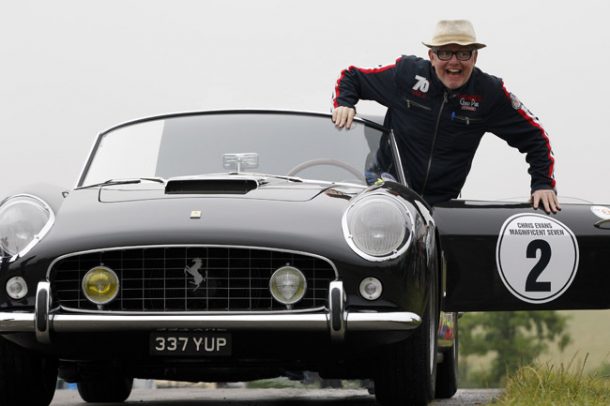 RAPIDLY becoming one of the most popular events in the motoring world, Chris Evans has announced the dates for next year's Carfests.
The broadcaster told his fans listening to his BBC Radio 2 show that the northern event will take place at Oulton Park from August 1-3. The southern CarFest follows three weeks later at Laverstoke Park Farm, near Basingstoke. This Hampshire event will be hold over the August Bank Holiday weekend (August 22-24).
Cheshire's Oulton Park is one of the UK's top motor racing circuits while, in contrast, Laverstoke is a renowed farm owned by former Formula One world champion Jody Scheckter.
Tickets for both CarFests go on sale from 7am this coming Wednesday (13th) to coincide with the BBC Children In Need week.
It seems hard to believe that the concept only came to fruition in early 2012, as the four events held so far have wowed more than 200,000 visitors and are now firmly established as one of the summer's most family-friendly and fun-filled festivals. More importantly the intoxicating mix of fast cars, live music and great festival food – devised by the media star to be his own personal concept of the perfect festival – have raised in excess of £2m for BBC Children in Need.
"It's onwards and upwards for CarFest," said Evans. "To date we've had some absolutely brilliant fun and raised more than two million pounds for BBC Children in Need. How could we not do it all over again in 2014? I promise you that CarFest will be even bigger and even more fun than ever before.
"Don't ask me how we're going to top what we've already achieved but, believe me, we will. There'll be more great bands, more fantastic cars, more fabulous food, more unbelievable air displays, more terrific sideshows… more of everything, in fact. It gets me all excited just talking about – I already can't wait for the gates to open at Oulton Park next August. I just want to be there now!"
The full line up of performing cars, bands and celebrities will be announced much nearer to the two events but Evans has confirmed that the music bill will include both chart-toppers Erasure and festival favourite Seasick Steve.
For more information visit the official CarFest website at www.carfest.org