Camaro special the ultimate boy racers' car?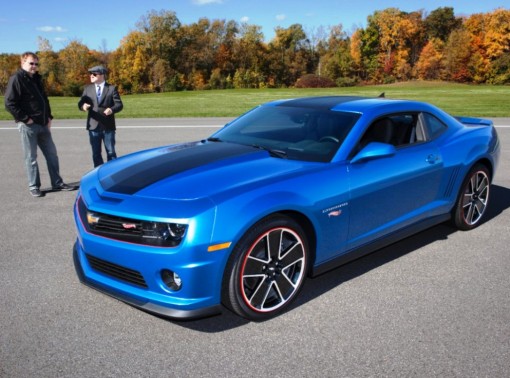 MILLIONS of boys (and a few girls) spent their childhoods dreaming of owning one of the cars they played with on their Mattel Hot Wheels® tracks.
And now, thanks to Chevrolet, you can (if your pockets are deep enough) have a full life-sized version of one of those cars — the legendary Camaro.
Boys racers of a certain age will wear huge smiles when the Camaro Hot Wheels® Edition arrives at the US company's dealerships early next year. Never before has a manufacturer put a Hot Wheels® car into production. But don't expect it to come in a plastic blister pack!
"Millions of us grew up playing with Hot Wheels," said Chris Perry, vice-president of Chevrolet marketing. "Offering a special production model of the Camaro Hot Wheels is an opportunity to bring those memories to life, for kids of all ages."
The Camaro Hot Wheels® Edition debuted at the Specialty Equipment Market Association (SEMA) Show in Las Vegas on Monday. A special run of the Camaro Hot Wheels® Edition will be produced in the first quarter of 2013 – and like the collectible toys on which it is based – when they're gone, they're gone.
"It's been nearly 20 years since I started designing cars for Hot Wheels and I have yet to drive one home," said Felix Holst, vice-president of creative for the Mattel Wheels Division. "Personally, I can't wait to open the doors and see the Hot Wheels Camaro sitting in the garage."
The appearance of the model echoes the cues that Hot Wheels enthusiasts recognise, including a vibrant, graphics-accented metallic paint scheme. The result is instantly recognisable as a Hot Wheels.
It is available in V8 coupe with manual or automatic transmission, blending exterior cues of the high-performance Camaro ZL1 with a Kinetic Blue exterior colour and unique graphics. Exterior highlights include:
• ZL1 rear spoiler
• ZL1 front upper grille
• Ground effects package, including front splitter and rocker treatment
• Black 20-inch wheels
• Two-tone matte hood graphic and rear taillight panel "blackout" graphic
• Fender "flame" graphics
• Hot Wheels grille and decklid logos.
On the inside, a black leather-trimmed interior is accented with red and black seat stitching with the Hot Wheels logo embroidered on the front seats. The instrument panel and door inserts are black, with the Hot Wheels-style flame decal on each door. Hot Wheels® Edition sill plates also distinguish the car, along with Camaro-logo premium floor mats with red edging.
The special edition features a 6.2L V8 coupled with a manual transmission that churns out 432 horsepower (318 kW) and 569 Nm of torque, or an automatic which develops 405 hp (298 kW) and 556 Nm of torque. The latter features fuel-saving Active Fuel Management.
The Camaro Hot Wheels® Edition, which comes with a seven-inch touchscreen full colour radio with Bluetooth hands free and audio streaming, will be available to order in Europe as of November 8, 2012. The package price for Europe will be announced shortly.
FAST FACT: The original Custom Camaro 1:64-scale toy from 1968 was one of the original 16 Hot Wheels issued and remains one of the most valuable Hot Wheels toys among collectors.
Hot Wheels® is a registered trademark of Mattel, Inc. All rights reserved.