Bugatti to build more powerful Veyron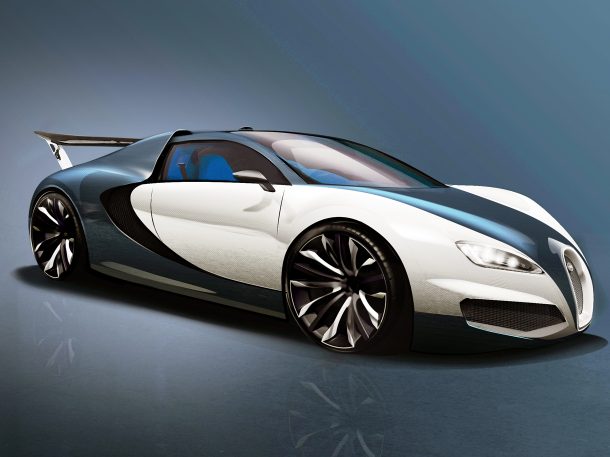 CLEARLY Bugatti didn't think its Veyron was quite good enough. It has announced a revamped model.
The successor to the iconic hypercar could feature performance levels so wild that its top speed will be difficult to prove, according to an exclusive report in Autocar.
Bugatti insiders have revealed to Autocar that the new model, expected to go on sale in 2016, could have a top speed of 286mph and a 0-62mph time of 2.3 seconds, if current computer simulations are to be believed.
The car will feature a hybrid powertrain based on the same quad-turbocharged 8.0-litre W16 engine featured in the current Veyron, and will generate close to 1500bhp. The nine-year-old Veyron's top speed of 268mph was already a challenge to prove, due to the limitations of its Michelin road tyres; Autocar believes that, unless tyre technology has advanced sufficiently, the rubber could disintegrate before the new vehicle reaches maximum speed.
Autocar road test editor Matt Prior said: "Even though aerodynamic drag increases at the square of speed, if you up the power enough, it's entirely feasible that Bugatti could find another 18mph for the taking in the Veyron's successor.
"But we're well into the realms of academia now. Making a road car that can do 286mph is one thing; making a road car do it on road tyres is rather more difficult."
A full report on Bugatti's Veyron heir can be found inAutocar or by visiting the website at http://www.autocar.co.uk/car-news/new-cars/bugatti-plans-new-286mph-1479bhp-veyron-successor.
The new vehicle is being built around a carbonfibre monocoque, like its predecessor. It will seat two in what is planned to be a highly luxurious cabin, complete with all the very latest in connectivity technology. The heavily revised powertrain receives electric assistance, while drive is channelled to all four wheels via a seven-speed dual-clutch automatic gearbox and multi-plate-clutch four-wheel drive system.
Originally launched in 2005, there are only 15 Veyrons left to be sold. As with the Veyron, the new car's production will be limited to around 450 units.