BMW brings fastest production cars to Britain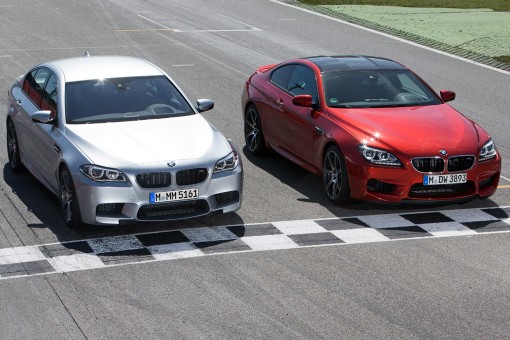 CARS seem to be getting ever more power these days and BMW is continuing that trend.
It is bringing its most powerful production models to the UK in the same of the M5 and M6.
Fitted with the BMW Competition Package they pack a mighty 575hp under the bonnet and chalk up the fastest nought to 62mph rates from each of the four variants.
The M5 saloon has undergone the same changes as the standard 5 Series range but with specific enhancements such as the M Double-spoke kidney grille, currently seen on the M6 Coupé and Convertible, as well as the new M Steering Wheel with M DCT paddles that feature on these models.
To the rear, the tail lights feature new Thin Blade technology, which provides clear defined light making it instantly recognisable as a BMW.
Building on this enhanced design, power output is increased to 575hp providing the punch for the new Competition Package but also adds Sport suspension settings, Sport steering, Sport exhaust with Black Chrome exhaust tailpipes and exclusive 20-inch Double-spoke M light-alloy wheels.
Additionally the Active M Differential is tuned to enhance agility during cornering while the M Dynamic Mode (MDM) is tuned to allow higher thresholds before the DSC intervenes. The Competition Package comes as a £6,700 option on top of the existing 'standard' M5 priced at £73,505 OTR. Other new options include 20-inch alloy wheels in black, an enhanced colour palette, upholstery and interior trim choice and Adaptive LED headlights.
The new BMW M6 Coupé, Convertible and Gran Coupé can all now come with the optional Competition Package too. The Competition Package costs £6,500 on an M6 Coupé and Convertible and £5,500 on the M6 Gran Coupé.
Full prices are: BMW M5 Saloon with Competition Package £80,205; BMW M6 Coupé with Competition Package £100,680; BMW M6 Convertible with Competition Package £105,880; BMW M6 Gran Coupé with Competition Package  £103,200.
http://www.bmw.co.uk/en/new-vehicles/M/m5-saloon/2011/start.html