Chevvy Corvette Stingray on Gran Turismo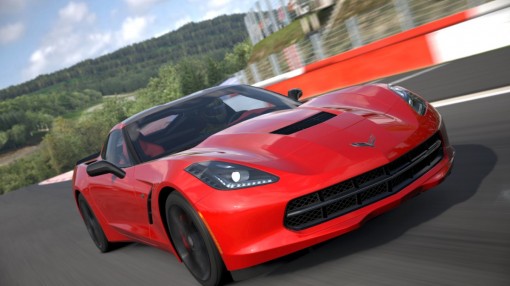 AS Chevrolet takes the wraps off the all-new Corvette Stingray, fans of Sony Computer Entertainment's PlayStation®3 (PS3™) system will have the first chance to push the car to the limits in the critically acclaimed Gran Turismo®5 racing game.
Nearly 500,000 people have driven the camouflaged Corvette prototype since it was introduced to the game in November of last year. Chevrolet and Polyphony Digital Inc., the developers of the Gran Turismo franchise, collaborated to provide an authentic driving experience in the Corvette Stingray – the seventh generation of the iconic sports car.
"Getting behind the wheel of the all-new Corvette Stingray – the most powerful and sophisticated standard Corvette ever – is sure to be a thrilling experience," said Chris Perry, vice president of Chevrolet Marketing.  "Through this unique collaboration with Gran Turismo, Chevrolet is able, for the first time, to give performance car enthusiasts access to such an exclusive driving experience the day after the Corvette Stingray's world debut."
During the creation of the virtual Corvette Stingray, careful attention was paid to the tiniest details of the new design inside and out, as well as to the enhanced performance driving characteristics – down to the shift schedule for the seven-speed manual transmission with Active Rev Matching.
The Corvette Stingray will produce an estimated 450 horsepower and 450 lb-ft of torque. It can accelerate from 0-60mph in less than four seconds and will achieve more than 1g in cornering grip.  It will also be the most fuel-efficient Corvette ever, expected to exceed the EPA-estimated 26 mpg of the current model.
"The Polyphony team has had an unforgettable experience getting to know the Corvette Stingray, inside and out, and bringing it into Gran Turismo 5," said Kazunori Yamauchi, president of Polyphony Digital Inc. "We're excited to share our experience with fans and let them feel, explore and drive the Corvette in a way that wasn't possible until now."
All six previous generations of the Corvette have been available to players of the Gran Turismo series.  The Chevrolet nameplate remains one of the most popular vehicles to race.
The Corvette Stingray can be driven on some of the world's renowned race tracks, including the Daytona International Speedway and the Nurburgring – one of the track surfaces used to evaluate the new Corvette Stingray's driving dynamics.
The Gran Turismo series has sold more than 68 million games since its inception and remains the highest-selling PlayStation-exclusive franchise of all time.