Triumph Tiger 800 proves it's multi-talented
Triumph's new Tiger 800 gives motoring writer and biker BOB HICKMAN something to get his claws into. Find out how he gets on as he subjects it to a thorough work-out.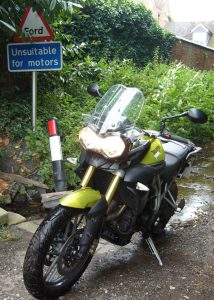 Sadly I am of an age that remembers when Triumph produced a 750cc Tiger, in fact at the time I borrowed one from the old Co-operative Triumph factory and competed in quite a few off-road competitions with the bike.
It was based on the good old fashioned parallel twin engine and it did its job, it shook itself to pieces with vibration and was never the most reliable, but it did win me a few pots.
When I had the opportunity to roadtest the latest Triumph Tiger from the Hinckley factory, I grabbed it with a relish.
Triumph have identified a gap in the market, they have seen that BMW and Honda  were doing very nicely with people who wanted to buy an off-road style of bike without necessarily wanting to ride it off-road, a bit like people who buy 4×4 vehicles, but never venture off-road. They decided, therefore, that there was a gap in the market for them.
A bike that could be used for commuting, touring and with semi-off-road ability would have appeal, so the Triumph Tiger 800cc is produced in two variants. There is the road-biased version which I had the privilege to test, with 19in cast wheels. It is an all-round useable machine. Then there is the off-road biased version that has a 21in spoked front wheel and much longer suspension and different tyres to take you off-road.
Triumph has been loyal to the three-cylinder concept and this particular engine fitted in to the Tiger was a little gem. It was almost linear in its power production; with fuel injection gone are the days of fiddling with chokes to get that initial start and then a reliable tick-over.
It has a capacity of 799cc – and the three-cylinder engine has a wonderfully unique  sound which Triumph, I am pleased to say, have not stifled with the exhaust set-up.
It is allegedly producing 94bhp at 9,300 revs with a reasonable amount of torque being produced mid-range. Triumph suggests that a top speed of 130mph should be achievable and the 4.2 gallon tank should give a range of about 200 miles which in this day and age is pretty good going.
The Tiger is a tall bike, I am just over 6ft with long legs, so for me it was perfect, the sports screen fits just in front of the instrumentations, at first I thought it was a bit gimmicky, but to my amazement 70mph cruising on the motorway showed that it did work, the aerodynamic effect of reducing the debilitating and tiring wind aspect when you are hanging on to a high set of handlebars was diminished and it actually kept some of the rain off.
The bike itself is a very, very agile performer, it belies the fact that it is an 800cc, the weight distribution is perfect. Performance from the first twist of the throttle all the way through the six gears is excellent. Acceleration is very brisk, the gearbox is a delight and very easy to use, clutchless changes could quite easily be made both up or down the box should you so desire.
One aspect that the particular derivative that I rode showed up was that it doesn't like off-road performing. There is a little lane by the A454 on the outskirts of Wolverhampton which runs towards Pattingham, called Bennetts Lane. It starts off as a very narrow lane, and then becomes narrower with grass in the middle, before it degenerates into a farm track, and for the last quarter-of-a-mile it is a stream bed.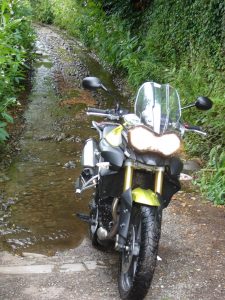 It is an education and difficult to ride, the pebbles had been polished so highly, that the bike did at times struggle to find grip and it was sideways as much as it was pointing forward, but it proved a point, yes it is possible to tackle a "green lane" but you need to concentrate and you really have to show the bike who is the boss, and with the tall seat configuration the smaller statured person may well struggle a little bit if they venture too far off-road. Having said that, this was just an exercise because Triumph are promoting this as a dual purpose bike.
The handling on road was brilliant, the size, and power all belie the fact of just how big this motorcycle was. I felt it was almost like riding a small 250cc, the big wide bars were always a bonus in and around town, I felt it was a bike that Triumph should be justifiably proud of and I believe that BMW with the 800cc GS and Honda with the Transalp should be having a look and becoming a little bit concerned.
Fuel consumption was quite reasonable, in the region of mid-40s is not to be scoffed at and as previously mentioned, the big fuel tank means you are not going to be paranoid about running out of fuel if you are doing a motorway.
My own bike is a 10-year-old Pan European, so I am a little out of touch with what modern motorcycles now come with as standard, so I was quite surprised to find the instrumentation on the Triumph comprised of a digital speedometer with a conventional analogue taco, it had a clock, a digital display to tell you which gear was selected, which again I find useful, especially when you have a 6-speed gearbox. Two trip displays are very useful, you get used to them in a car to see just to see how many miles you have done, it also had an average speed, and fuel consumption display, a fuel gauge and again copied from the car world, a distance left with the amount of fuel on board, all very, very easy features and the buttons to operate them were sensible and easy to operate, even with gloves on.
Triumph are optimistic of selling at least 7,000 of these bikes into the global market and I fail to see any reason why they shouldn't achieve that target, because it is the sort of bike that once you have ridden it, you realise just how good both the bike and concept is.
My only reservation is the lack of luggage carrying facilities that would, for me, be a downside. You would have to have throw-over bags, plus a tank bag.
With a price from £7,149 and on sale now, I can see nothing but success for Triumph and this new bike.