Don't let winter put you off two-wheeled commuting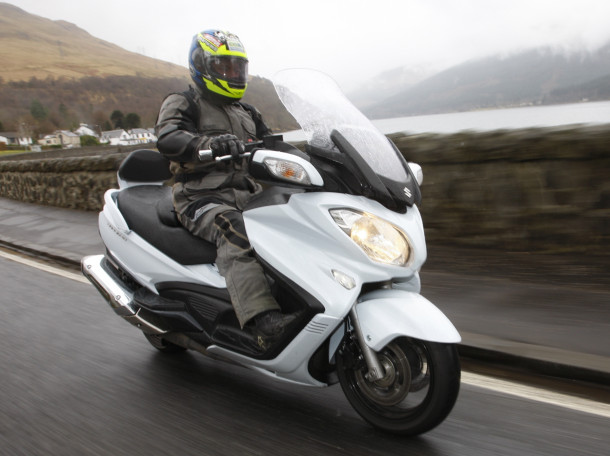 MANY commuters are finding the costs of travelling to work are getting higher seemingly every week.
Often the ride to work by train or bus seems like being packed into cattle trucks.
With that in mind, more and more are turning to using their own transport. But travelling by car can often mean being stuck in traffic snarl-ups.
Using a motorcycle to get to work
boasts a number of perks. Reduced journey times, typically better fuel economy, and ease of parking in city centres, which is often free, are just a few of them.
But in the winter months those perks are often overshadowed by the numbing of extremities in the cold weather, rain and spray covering the visor, making visibility difficult, and if you do commute by motorcycle in the winter, chances are you'll want to wear more layers when you arrive but lack the storage space.
Enter the Suzuki Burgman 650 Executive, which offers the same two-wheel practicality as other motorcycles, but with comfort levels more akin to four-wheeled vehicles. Heated grips and a heated rider and pillion seat as standard keep everyone warm, while an electronically adjustable windscreen, coupled with an ample fairing, keeps off the worst of the elements. Filtering through rush hour traffic to keep those journey times down is even easier too, with mirrors that fold in electrically at the push of a button.
Achieving more than 60mpg is easy too, with a handy eco-light illuminating on the dash to encourage economical riding, ABS as standard adds confidence when braking on tricky winter surfaces, and parking on an incline is aided by a handbrake located near the left leg for an easy reach, while a magnetic ignition cover adds a greater level of security. 50 litres of under-seat storage is enough for two full face helmets, with three handy compartments up front adding additional storage space, and a DC outlet is conveniently included to charge phones, satnavs, and other electronic devices on the move.
After a recent trip to the Scottish Highlands aboard a Burgman 650 Executive, freelance journalist Chris Moss said:
"With its high level of convenience, comfort, and practicality it's fair to say it's one of the most versatile two-wheelers on the market. Cruising at around 80-90mph is no strain at all thanks to the total protection offered by the fairing and electrically-controlled screen. And returning 66mpg is an indication the trip didn't take much out of the motor either.
"Selecting the auto option of the three gearbox settings available, and keeping the 'eco' light illuminated on the dash guarantees that sort of economy
. The fold-in mirrors are another thoughtful feature of the scooter which helps to make life run all that bit more smoothly and time-saving when filtering through cars.
"The Burgman really is something that makes a difference to your life, completely simplifying your transportation, regardless of the nature of the journey. I cannot recommend it highly enough, and I'm confident anyone who tried one would feel exactly the same way."
For more information on Suzuki's Burgman 650 Executive, visit www.suzuki-gb.co.uk