Taste of Italian cafe culture
ITALIAN motorbikes have always had their devotees, including the cafe racing machines.
Most of the top marques have had plenty of books written about them, but until now no one has produced one specially covering cafe racers.
Coming from a nation with a great motorcycle racing heritage, Italian motorcycles have, unsurprisingly, always had a sporting flair.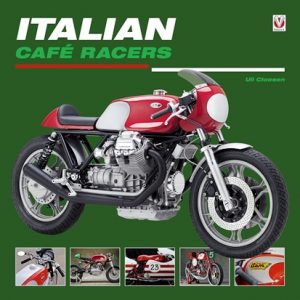 Italian Cafe Racers, by Uli Cloesen, lifts the lid on the growing trend of custom Italian cafe conversions, illustrated in detail with stunning images of select sporting, racing, and caféd Italian motorcycles.
Italian Cafe Racers celebrates stunning Italian bikes from all over the globe. From the old to the modern, from horizontal-singles to inline sixes, this book reveals these stylish machines in all their innovative glory.
Uli Cloesen has been involved with motorcycles since 1975. His riding career started with a Maico MD50 road bike and grew into owning several BMWs, Yamahas, a Kawasaki and a Royal Enfield.
Through his years of motorcycle ownership the art of turning standard motorcycles into custom bikes always intrigued him. Uli lives in New Zealand and continues to write new motorcycle books.
Whether you're an entusiasta, a follower of the café racer culture, or simply appreciate beautiful bikes, this hardback book is guaranteed to interest and inspire … see the 'cafed' side of Italian bikes.
Italian Café Racers by Uli Cloesen
ISBN: 9781845847494
UPC: 6-36847-04749-8
UK £25
To view sample pages and sample text, see http://www.veloce.co.uk