A Harley where the Custom-ising is complete
Featuring a fabulous two-tone paint job, editor DAVID HOOPER, takes Harley-Davidson's latest 1200 Custom out for a ride to Mablethorpe, on the Lincolnshire Coast.
PEOPLE buy Harley's for all sorts of reasons. It's much more than just a means of transport, or a reason to get out of bed on a Sunday morning and go for a ride. People who spend lots of money on Harley-Davidsons often see them as a lifestyle choice.
These machines are loved, of course, but their owners often spend thousands customising them to make them completely individual to them, that little bit different from anything else on the road.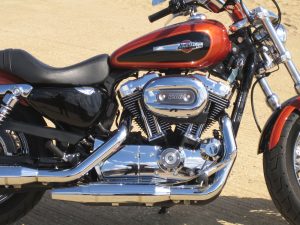 I have just enjoyed a memorable few days riding one of the American manufacturer's latest machines, the XL 1200C Sportster Custom, which is a new model for this season – and I absolutely loved it!
Of course, a prospective owner can order their bike in a variety of colour schemes, but personally, I loved the Sedona Orange and Vivid Black scheme of this machine. It looked fantastic with the metallic paint glinting in the sunlight, as the chrome-finished wheels, exhausts and various other bits and pieces gleamed.
Perhaps this is why Harley owners take such a pride in their machines. There's an awful lot of chrome to look after on this bike, with its staggered shorty exhausts with dual mufflers and 16in steel laced wheels fore and aft. In high summer, when the bug count is high, regular sessions with the polishing cloth will be needed to keep it looking its best.
I thought the model I tested looked absolutely fantastic – and it was a delight to ride, too. As a fairly new, and still slightly wary biker, taking delivery of such a big machine is still a touch on the daunting side, especially when I don't get the chance to ride as often as I would like, but after only a few minutes in the saddle, I felt completely at home.
The bike felt quite heavy at low speed, but as soon as it's moving, the weight seems to virtually vanish.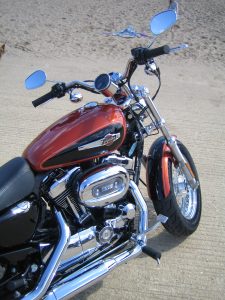 Compared to modern sports bikes, it's quite a long machine, but I found it surprisingly manoeuvrable, making it easy to ride around town, where it certainly turned a few heads as it burbled past, or sat idling at traffic lights. Admiring glances are never far away for Harley riders.
The instrumentation is simple and very easy to operate. All you get is round dial mounted in the centre of the handlebars which is the speedometer. Discreetly set within it are various warning lights and crucially, a low fuel warning, which gives you enough time to find a petrol station when you run low.
A button on the back of the speedo operates a trip meter with an A and a B setting, so you can keep an eye on how far you've travelled in total, or between fill-ups. I found I was getting around 40-50mpg, depending on how I rode the bike, which gave me a range of 80-100 miles on a tank of fuel.
There are buttons on either side of the handlebars for the left and right indicators. they are self-cancelling, which takes a bit of getting used to, but it is actually a clever idea and a good safety feature, as it reduces the risk of forgetting to turn off an indicator. As the bike rights itself after a corner, the indicators self-cancel, or if they are activated for too long, they will also turn themselves off. Pressing both indicators together, activates the bike's hazard warning lights.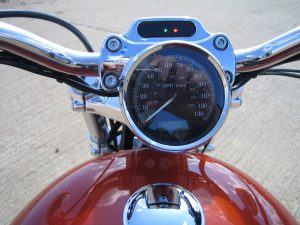 The indicators, and the rear brake light use LEDs for extra brightness, so are easy for other road users to spot, even on the brightest of days.
In typical Harley-Davidson style, you sit with your legs out in front of you, which many riders of traditional bikes could be forgiven for thinking looks a bit unnatural, or uncomfortable, but in my experience, you very quickly get used to it. I had ridden a normal, upright bike a couple of times before my Harley arrived, but after only a mile or two, I felt completely at home.
There are five gears, operated by a huge lever on the left hand side, with one down and four up. On the opposite side of the engine, there is a large foot pedal, larger than you will find in some cars, which operates the rear brake – but at least you don't have any trouble finding it, which is an issue I've had with one or two other bikes I've tested.
There is a small rear seat for a pillion, but personally, I wouldn't fancy going too far on it.
The 1200cc engine is lovely. Start it in the morning and as it rumbles into life there's an instant tingle of anticipation as the twin exhausts channel the noise rearwards. As with most Harley's, the engine is a low-revving, torquey affair.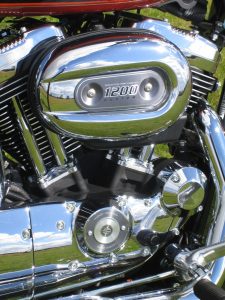 Although a 1200cc engine may sound a bit scary, it actually suits this bike perfectly. With bags of low-down grunt thanks to 98 Nm/72ft Ibs of torque at 3200rpm, a twist of the throttle sees the Harley respond instantly, but in a smooth and progressive way. Wind the throttle open and it will pull like a train, with almost relentless acceleration, which makes overtaking quick, safe and easy.
Designed for comfort rather than speed, I found this machine was most at home on A and B roads, rather than motorways, where it's naked style meant that at higher speeds I began to feel like a wind brake and found myself hanging on. It's fine for a while, but on a long journey, I think it could become quite tiring.
Being wide and low, and with what are best described as large foot plates on either side, rather than foot rests, it's not the sort of machine that will let you get your knee down mid-corner. Lean the bike too far over on a roundabout, or in a tighter bend, and the peg below the foot rest will come into contact with the road surface making an awful scraping sound and sending vibrations up through the footrest! I only did it a couple of times, but it certainly makes sure you're wide awake!
I really enjoyed pottering around some of my favourite roads on this beautiful looking bike. It was surprisingly comfortable to ride, and easy to live with.
Of course, choosing a motorcycle that's right for you is a very personal thing, but I think that if the Harley-Davidson brand is up your street, you can afford the £9,000 asking price, and have a good supply of polishing cloths, owning a bike like this would be a genuine delight.
FACTFILE
Model: XL 1200C Sportster.
Engine: 1202cc air-cooled, Evolution.
Transmission: 5-speed.
Weight: 251kg dry.
Seat height: 710mm.
Fuel tank: 17 litres.
Price: £8,649 on the road, or £9,099 with two-tone paint.
Website: www.harley-davidson.com