Sun shines at Silverstone as Webber wins British GP
Despite a rain-effected qualifying session, the weather was kind to the Silvertone crowds on race day – there was even a heat haze! DAVID HOOPER reviews the 2012 British Grand Prix.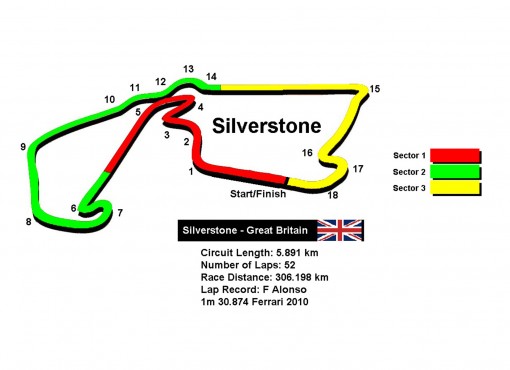 THE British "summer" wreaked havoc with the qualifying session on Saturday with rain stopping play for around 90 minutes, but eventually, it was Spaniard Fernando Alonso who claimed pole, with Australian Mark Webber joining him on the front row of the grid.
A resurgent Michael Schumacher followed up his podium last time out at Valencia with third on the grid while Sebastian Vettel was fourth.
Further down the field, the Brits weren't having such a good time of it, with Hamilton in eighth, while his McLaren team-mate Button failed to get out of Q1 which left him starting from 16th place on the grid.
With Silverstone attracting the headlines for all the wrong reasons on Saturday after having to tell around 20,000 fans to stay away because of the water-logged car parking facilities, F1 supremo Bernie Ecclestone, who has been a long-time critic of Silverstone's facilities, seemed to be sympathetic, saying that the owners can't control the weather.
But while the BBC's Jake Humphrey and the ever more erratic Eddie Jordan filled in for all they were worth until the qualifying session was restarted, unless I'm very much mistaken, another British legend, Murray Walker, made a welcome return to the commentary box, regaling the viewers with tales of Formula 1 from years gone by, as well demonstrating is in-depth knowledge of the current crop of drivers.
For me, Formula 1 has never been the same since Murray retired and I'm sure I'm not alone in wishing he would make regular guest appearances in the commentary box. He really is a living legend who's commentated on most of the grands prix in the sport's modern era.
However, with many fearing the worst for race day and with the weather forecast far from encouraging, the build-up to the race was bathed in glorious sunshine.
What a difference a day makes!
As the five lights went out, Alonso viciously defended from Webber, who avoided his regular start-line gremlins, but it was Alonso who led cleanly into the first corner.
Schumacher also got a good start to retain third place, while Button made up several places on the first lap.
Paul di Resta wasn't so lucky, and after a tangle with Grosjean had to retire his car. Maldonado and Perez also came to grief, but the rest of the field managed to avoid tripping over each other and race began to settle down.
Schumacher began to back up the field behind him, who were using their DRS systems to close the gap, but the German's Mercedes was one of the widest cars in the field.
There was little excitement during the first pit-stop phases and it wasn't until the last round of pit stops that things began to liven up. Sauber's Kobayashi totally misjudged his braking into his pit box, overshooting by a good car's length, and unfortunately took out several of his mechanics in the process. Thankfully, no-one was badly hurt, although at least one of his team was treated for his minor injuries.
Nico Rosberg in the second Mercedes also had a problem, this time with a sticking front left wheel nut, which needed a second attempt to fasten correctly.
It was then that things began to liven up a bit. Mark Webber, who had been quietly getting on with his weekend, found himself closing Alonso down on Lap 44, by half a second a lap, as the Spaniard began to struggle on his fading tyres.
It quickly became apparent that it was only a matter of time before Webber made his move in spectacular fashion, overtaking Alonso around the outside at Brooklands. Webber made his move stick, before pulling out a lead which he held until the chequered flag.
Vettel, running in third with a couple of laps to go, looked as though he would also be challenging Alonso in the last couple of laps, but couldn't quite get close enough.
On the 51st lap, Raikkonen, under pressure from Hulkenberg and Senna, ran wide at Farm, letting both through, but then Hulkenberg himself ran wide at Copse, allowing Jenson Button through to claim 10th position.
So Webber led the field home to claim victory for Red Bull at Silverstone, with his team-mate Vettel claiming third, with Alonso holding on to the podium's second step.
Alonso's team-mate Massa, who had driven a good race this time out, held off Raikkonen for fourth place, while Lewis Hamilton could only manage eighth. Jenson Button claimed the 10th and last point, just behind Bruno Senna who came home in ninth.
Incredibly this summer, the predicted rain showers which were expected to arrive at Silverstone in the closing stages of the race, stayed away, leaving many fans feeling slightly cheated of the excitement a liberal sprinkling of water can throw into the mix of the closing stages of a grand prix weekend.
I've been saying for years now that the best way to spice up Formula 1 is install sprinklers around the circuit and set them off at random intervals around the circuit. Thankfully, Formula 1 has been generating enough excitement of its own in the last few years, so although the 2012 British Grand Prix may have lacked some of the weather-induced drama we had hoped for and expected, it was still exciting enough to keep most of us entertained.
My friends and I decided to hold our own "We can't afford to go to Silverstone this year" party, so special mention goes to Wayne Kirman, Roy and Jordan Syer and Alistair Hooper for talking over most of the interesting bits, and supplying copious amounts of beer during the boring bits.
Also special thanks to "the girls" for their catering efforts which helped soak up the beer enough for us to combine our by now somewhat addled brains to write this race report.
Next up is the German Grand Prix at Hockenheim,  on July 22. Remember to visit  wheelworldreviews.co.uk for a race preview, and race report, and follow our regular F1 reporter Tom Wilkinson on Twitter at #TWF1.