Revving up for Monaco magic this weekend
This weekend will see Formula 1 at its most famous and glamorous circuit. TOM WILKINSON reports on the latest news and previews the Monaco Grand Prix.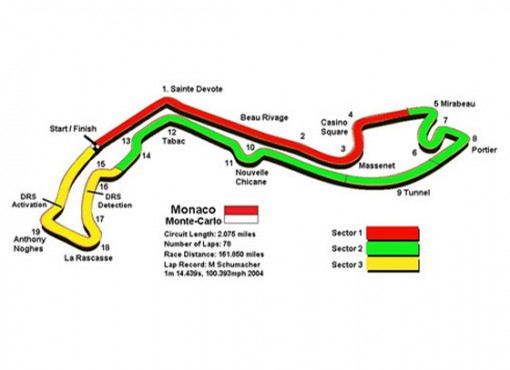 After one of the most exciting starts to a Formula 1 season in recent years, five different winners in five races, the sport now heads into the most glamorous and historic race of them all. The superb harbour, gorgeous girls and the tight twisty streets of Monte-Carlo await for Round Six of the 2012 season.
This picturesque principality looks great from all angles, but the view from a Formula 1 cockpit is one of the most unique views there is. The tight streets provide no room for error, charging between the barriers is one of the ultimate challenges in motor racing, this is the most historic and exciting race on the Formula 1 calendar.
After the last race in Spain where Pastor Maldonado won in spectacular fashion, Williams will once again be hoping for another top performance. The Venezuelan driver likes the Monaco circuit and says he's confident that he can win again. Pastor says he enjoys the challenge of Monaco, and a solid race finish is what he is expecting.
Ferrari and Lotus will also be hoping to continue their good performances from Spain, Fernando Alonso was at the heart of the race and had a real chance of victory. However Felipe Massa will be looking for big improvements once again, after finishing in only 15th Position in Barcelona. The Brazilian has received a warning from Ferrari President Luca Di Montezemolo this week. Di Montezemolo has said: "He must bring home the results we expect from him". Lotus had a strong performance again, the car showing good grip and balance which is promising for this weekend. Could Raikkonen or Grosjean be the sixth different winner this season? Don't rule them out, it's a real possibility.
McLaren will be hoping for a much better weekend in more ways than one. Barcelona was a mix of problems and embarrassment for the British team. Jenson Button has demanded more speed from his car, saying that the balance and pace of the car is worrying. Lewis Hamilton had a good race considering he started from the back. But the team made a crucial mistake with Hamilton's car in qualifying by not putting in enough fuel. As a consequence, the team failed a technical inspection which meant that Hamilton was excluded from the qualifying results. This mistake cost them pole position.  A consistent run of mistakes and poor pit-stops has cost McLaren dearly so far this season. They need to drastically improve to remain in the title hunt.
F1 NEWS Update:
Williams suffered from a devastating fire after the last race in Spain which destroyed vital technical equipment. The team insist however that they will be able to race this weekend, but admit it could be difficult. All personal who were treated for injuries after the event, have now returned home safely. The team have recently said that Brazilian driver Bruno Senna is safe with Williams after rumours that reserve driver Valtteri Bottas could replace him in the near future. Senna has had a string of poor performances so far this year, while team mate Maldonado is showing true potential in the car and himself.
In the wake of last year's horrific accident involving Sergio Perez during Qualifying, changes have been made to the Monaco circuit in the area exiting the tunnel and around the Nouvelle Chicane in order to improve safety. The barrier that Perez careered into last year, has been moved back by 15 metres, giving a car and driver more time and space to slow down safely. Also the track surface in the braking zone has been completely resurfaced, in an attempt to reduce the bumps under braking. Elsewhere on the circuit, the tech-pro safety barriers will be used more widely, again in an effort to improve safety. The challenge of Monaco and its tight streets will always remain thrilling and exciting.
Pirelli have predicted another close and unpredictable race in Monaco, thanks to a variety of tactics and strategies likely to be used by the teams. The Soft and Super-Soft compound tyres will be available this weekend, with these tyres offer the ultimate in grip, however degradation will be an underlining factor once again. Pirelli Motorsport director Paul Hembery has said strategies will be mixed between the teams, and that Formula 1 should prepare for yet another thrilling race.
Michael Schumacher has a five-place grid penalty heading into this weekend after the crash involving Bruno Senna last time out. The German was deemed to have caused an avoidable incident in Spain after race stewards investigated the crash. Wherever Schumacher qualifies on Saturday, he will move five places back from that position.
You can watch the 2012 Monaco Grand Prix Live on both the BBC and Sky this weekend. Don't forget that the first two practice sessions take place on Thursday. I'll be covering the weekend Live on Twitter @TomWilkinson89 #TWF1. You can read my full race report right here at wheelworldreview.co.uk Enjoy the race, it promises to be thrilling once again.