F1's Vettel and Alonso prepare for Brazil battle!
After a successful return to the USA, this weekend is the final round of 2012 Formula 1 World Championship in Sáo Paulo. The drivers' title will be decided around one of the most unpredictable and challenging circuits in F1. TOM WILKINSON previews the title showdown.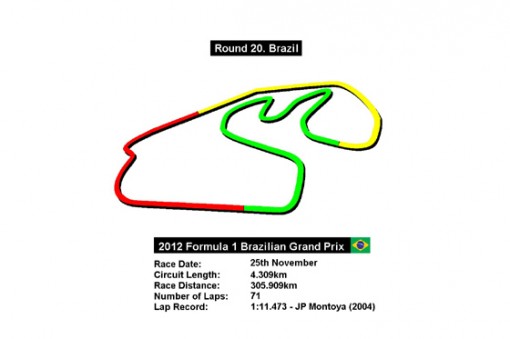 The 2012 Brazilian Grand Prix, Round 20.
The Championship has just got closer, 13 points between Vettel and Alonso. Sáo Paulo is one of the most unpredictable circuits in the sport. On so many occasions before, titles and results have been decided by this inner city circuit. Weather has played a big part in the past and this year will be no different. Friday is predicted to be mostly dry, Saturday is heavy thundery showers and Sunday is changeable with a 40% chance of rain.
What a race this will be, let's have a look at how Fernando Alonso can take the title in Brazil. He must finish on the podium if he is to be crowned champion.
• If Alonso wins, and Vettel finishes lower than fourth.
• If Alonso is second, Vettel would need to finish lower than seventh.
• If Alonso is third, Vettel would need to be lower than ninth.
Sebastian Vettel has admitted he is concerned about his Red Bull's reliability after yet another alternator failure on Webber's car in Austin, Texas, last weekend.
With such a crucial race this weekend, the German needs to have a clean race if he is to take his third title. Team boss Christian Horner had this to say to SkySportsF1HD on Sunday in Austin. "It looks like an alternator. So unfortunately, yes, that's what the data suggests at the moment. It's a suspected alternator. It's just a worry full-stop. I mean, unfortunately it's the third alternator that we've had and obviously there have been other failures in other cars. So we need to get it back. I think the new version is on other engine cycles. Hopefully that's what we'll have for Brazil."
With Sáo Paulo being tough on engines due to it's high altitude, the Red Bull team will be hoping that mechanical issues won't rob them of title glory. There are so many things to consider, weather, reliability and the occasional back marker, it won't be an easy race for either driver.
Sáo Paulo, the Intelargos Circuit
Let's take a look at this famous and challenging circuit. A total length of 4.3 kilometres it's not a long circuit, but it throws up many challenges around the lap. Heading across the start/finish line into turn one, breaking late in third gear, taking the speed into the corner at around 106kph, its a left-hand bend dropping away on the apex as you go down the steep decline. Turns two and three follow immediately, they are easily flat out in the dry. Turn three (Curva Do Sol) is a long sweeping left turn where the DRS will be activated down the back straight, achieving top speed in top gear at 323kph. Turn four beckons, it's an open and inviting third gear corner, but can catch you out so easily, it's taken at 154kph. Turn five immediately follows but it's easy and flat.  Now rising uphill once again at 293kph, this is where the track can bite. Turn six is a fast right hand bend taken at 218kph. Turn seven (Curva Do Laranjinha) immediately appears with a blind apex at the top of the crest, in fifth gear at 231kph turning right on the blind bend and spotting the braking point for turn eight, mastering this corner takes immense skill. Turns eight, nine and 10 follow in quick succession, slower corners taken in 2nd gear. Things speed up again heading downhill through turn 11 (Mergulho) at 235kph in fifth gear, it's a flat-out corner. Turn 12 (Juncao) at the bottom of the hill, a tricky braking zone it's so easy to lock up the front left tyre when you brake. Taken in third gear at 154kph with a wide exit, taking the speed through this corner is critical as you carry the speed all the way back to turn one. Climbing the steep hill flat out through turns 13, 14 and 15 in top gear at 309kpm, crossing the start/finish line to complete the challenging and exciting lap of Intelargos.
Formula 1 News:
Formula 1 made a very successful return to the United States last weekend at the Circuit of The Americas. The venue in Austin was hailed as terrific by Bernie Ecclestone, who also confirmed that F1 is working to have three races in the States over the next three years.  This fast and technical circuit proved very popular with the fans, turn one was a particular talking point. It was great to see F1 back in America.
This weekend's race in Brazil will be the last race for F1's Official Medical Delegate, Dr Gary Hartstein. He announced on Twitter just before the US GP that the FIA have chosen not to renew his contract. After 247 races and having worked in the sport since 1990, it's the end of an era. Hartstein worked alongside the late Sid Watkins for well over a decade. Many fans are angered by this news. He has played a major part in implementing safety improvements in the sport. His successor is not yet known. My personal view on this is one of pure bemusement, Dr Hartstein has played a critical role in F1 and to find someone with his experience will be extremely difficult.  
Lewis Hamilton will participate in his last Grand Prix for McLaren in Sao Paulo. This is surely going to be an emotional race for him and his team. Former McLaren team principal Ron Dennis has confirmed that team sponsor commitments were a big sticking point in the contract negotiations. This is what he said to SkySportsF1 reporter Ted Kravitz on Sunday.  "Obviously the media thinks there's some issue between Lewis and I – there's absolutely no issue between us. Sometimes the circumstances in a relationship don't balance, don't match. We're a team that requires a lot out of a driver and if some other team is able to make a more attractive proposition in any shape or form then it's understandable that your driver's going to move."
With so much news this week from both Austin and Sáo Paulo, follow me on Twitter @TomWilkinsonF1 #TWF1 for all the very latest. You can "like" my F1 Facebook page also at Tom Wilkinson F1. Stay right up to date with all the paddock gossip, and of course that Championship Title. David Hooper will be reviewing what I'm sure will be a fascinating final race of the 2012 season. You can catch the race report right here at wheelworldreviews.co.uk.
I'll be back before Christmas with a special report looking back over the thrilling 2012 season.
Enjoy the Brazilian Grand Prix!