F1 to sparkle under the lights of Singapore GP
Who will light up Singapore this weekend and who will be left in the dark? Its round 14, the Singapore Grand Prix, and TOM WILKINSON reports.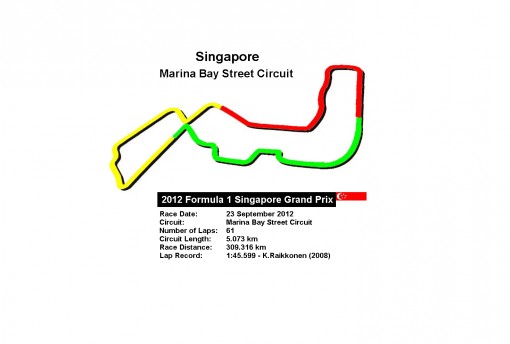 The sun has now set on the European season, many of us are hoping the lights of Singapore will shine on a number of rumours and gossip in the paddock. The rumour mill is working overtime, Hamilton, Perez, Massa and Schumacher all included in the speculation. But first I want to pay a personal tribute to a man we all owe our greatest thanks to, the late Professor Sid Watkins.
Last week everyone in motorsport heard the very sad news that Professor Sid Watkins passed away. The Formula 1 Medical and Safety expert sadly died at the age of 84. His influence on the sport has been simply incredible. He has saved countless lives over the years and improved safety in motor racing enormously. The whole world of F1 was deeply saddened by this news and the messages and tributes were pouring in. Twitter was one place where many fans and drivers left their messages. I am hopeful that this weekend Formula 1 will pay tribute to the "Prof" as he was known. He was a man who simply cannot be replaced, a man who dedicated his life to safety in Motorsport. We as fans have so much to be grateful for, we can watch and enjoy the sport we love knowing that those tragic accidents of decades ago, are extremely unlikely to occur again.  There has not been a death in Formula 1 since that tragic weekend in May 1994. That weekend both the world of F1 and Sid Watkins lost a young, promising driver in Roland Ratzenberger, and a true hero and dear friend of Ayrton Senna. From this weekend onwards, the blackest weekend in F1 history, Sid Watkins changed Formula 1 beyond anyone's beliefs. He will be remembered by all in the sport, his character and personality so comforting and warming. Professor Sid Watkins 1928 – 1212.
In other news this weekend the speculation continues over Lewis Hamilton's future.
The question is, Mercedes or McLaren? Some suggest that it is Mercedes where he is heading next season, others say he's staying put at McLaren. I really do not know what to make of this story personally, I wouldn't be surprised either way. Mercedes will offer more money and freedom, McLaren, however, are more likely to have the better car and therefore a more realistic opportunity of winning. But to me, Lewis just doesn't look comfortable at McLaren any more. If he joins Mercedes, he will partner his very close friend Nico Rosberg. Surely then seven-time world champion Michael Schumacher will retire, right? Well no, actually as some rumours suggest, he will replace Massa at Ferrari. I don't see this being realistic honestly. I think he will retire if Hamilton chooses Mercedes, Schumacher will most likely play a supporting role in the team, perhaps on the pit wall. But young Mexican Sergio Perez has been linked to  a Ferrari seat for some months now, however the company's president, Luca Di Montezemolo, has said that he is too inexperienced to drive for the Scuderia. This story will be rumbling on through the weekend, so let's see what happens.
The BBC's F1 presenter Jake Humphrey is leaving the Corporation's Formula 1 coverage and heading to BT Vision for football coverage. With a child on the way, its understandable. I suspect Lee McKenzie will be taking over.
Rumours aside, le's concentrate on the Singapore Grand Prix.
This will be the returning weekend for Romain Grosjean after his one race ban. Lotus GP insist that the young Frenchman has learnt from his mistake back in Belgium and this in time will make him a better driver. Lotus have a good car this year but the team just can't seem to quite make that leap onto the winning step. After visiting the team back in Silverstone, they have a strong and experienced team. It surely won't be too long before we see a Lotus winning in Formula 1 once again.
Pirelli have chosen soft and super-soft compound tyres for this weekend. Tyre degradation will be a major factor on this long and very tight circuit which is a killer on tyres and brakes. The chances of a Safety Car here are very high, teams will be building this factor into the race strategies. Weather for this weekend looks like there will be a chance of rain particularly on Saturday, the humidity in Singapore means a storm is never too far away, although we have never had rain here at this race before.
Qualifying high up the grid is vital at this circuit, the weekend will be full of drama and entertainment. The 2012 Formula 1 season continues this weekend in Singapore, Join me Live on Twitter @TomWilkinsonF1 #TWF1 for all the latest stories and information. I'll be commentating Live throughout the weekend, feel free to join me and interact. The race report will be right here at wheelworldreviews.co.uk next week so you won't miss a thing. It's round 14, Singapore under the lights.
Enjoy!