Brundle and Kravitz to cover F1 for Sky in 2012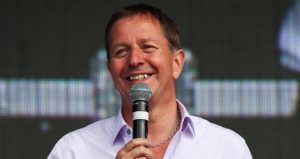 MARTIN Brundle and Ted Kravitz have left the BBC to head up Sky's Formula One coverage for the 2012 season and beyond.
The shock news was revealed following the last race of the season in Brazil after the BBC wrapped up its coverage of the 2011 season, writes Tom Wilkinson.
Sky's surprise announcement that it will broadcast all F1 races live in Britain shocked fans of the sport when the news came on the Friday of the Hungarian grand prix. The Sky deal was kept so secret that even some of the BBC F1 team didn't know until that morning. Lead commentator Martin Brundle said on Twitter: "Found out last night, no idea how it will work yet. I'm out of contract, will calmly work through options. Not impressed".
Once the speculation and rumours had calmed down, it became clear the sport's fans were angry about this new deal saying that Formula One is a national sport which should remain free to view.
The BBC argued it was simply not possible due to its financial position. The fact was, they simply couldn't afford to spend nearly £45-million a year on a sport that would be broadcast over 20 weekends. They were in an impossible situation. Sky was the only British broadcaster available to continue the contract, the two struck a joint deal. The BBC would broadcast 10 live races with the remaining 10 as extended highlights. Sky would broadcast all practice  and qualifying sessions, plus the races live.
It is a ground-breaking deal stretching from 2012 to 2018. It will be very interesting to see how it affects the sport and its future in Britain.
I asked fans on Twitter what their thoughts were, the response I got was focused on one major area. They said it would have a major effect on viewing figures, and that eventually Formula One would simply dwindle into the background.
Here is how things will pan out next year, on Sky and the BBC.
BBC F1:
The presenting team will continue mainly the same. Jake Humphrey will remain as the anchorman alongside David Coulthard. Eddie Jordan's future is unclear at this time. All the coverage continues to come from the race venue. In the commentary box Coulthard remains, but Martin Brundle has jumped to Sky. His replacement has now been confirmed as Ben Edwards, who is best known for his coverage of the British Touring Car Championship.
The pit lane team will also change. Lee McKenzie will continue, but a replacement for Ted Kravitz will have to be found.
Sky F1:
Sky will launch its own F1 channel to sports and HD subscribers in March 2012. It will be called SKY F1 HD. It will open up the world of Formula One to the viewer with an in-depth interactive service. It includes in-depth interviews and features, also on-board views from the cars and official live timing screens with race data. That's all in addition to every on track session in full HD live and uninterrupted.
Sky has confirmed it will not show adverts during any of the on track sessions. This is welcome news for the avid F1 fan.
The main anchors will be Georgie Thompson and Simon Lazenby, two familiar faces to Sky Sports. Joining them will be Steve Ryder, who was formerly ITV's F1 presenter.
In the commentary box will be Martin Brundle and David Croft who will be joined by former racer Anthony Davidson.
The three provide a very strong commentary team throughout all sessions.  In the pit lane will be Ted Kravitz alongside Natalie Pinkham.
I think the Sky F1 coverage provides a dream ticket to the fans with F1 having its own dedicated channel.
The races the BBC will show live are as follows:
15 April: China
13 May: Spain
27 May: Monaco
24 June: Europe (Valencia)
8 July: Britain
2 September: Belgium
23 September: Singapore
14 October: Korea
4 November: Abu Dhabi
25 November: Brazil
All remaining races will be shown as extended highlights.