BTCC ace Matt Neal helps MX-5 Britcar racers
AS the MX-5 marks its 20th anniversary, wheelworldreviews Editor David Hooper joins the Mazda UK race team as it prepares for its first event in the Britcar Championship at Snetterton.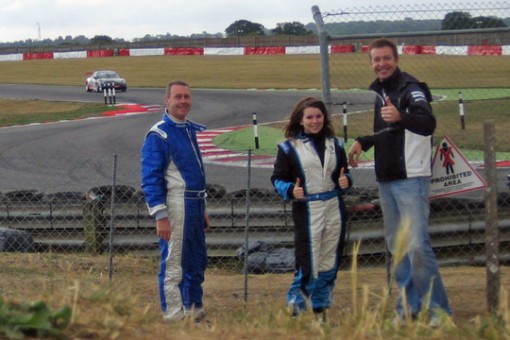 WITH signing on at Snetterton starting at 7.30am, it was an early start for the Mazda race team and its drivers.
Jota Motorsport is preparing and running the cars for Mazda UK in the Britcar Championship in celebration of the MX-5's 20th birthday.  Fun to drive, reliable to own and economical to run, the little Mazda has developed a loyal band of enthusiasts in its first 20 years – enthusiasts who cross the usual boundaries of age and gender, so there's no wonder the MX-5 has become the world's favourite sports car.
It has also become a favourite with track day fans – something it's outings in the Production Class of the Britcar Championships will help to reinforce.
The Snetterton race was largely an extended test session in the build-up to the main event in the Britcar calendar, the 24-hour race in October, which will see Mazda UK enter three cars, driven by a mix of professional drivers and journalists.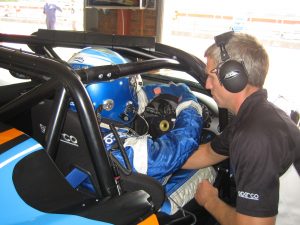 The Snetterton race saw a two-car entry, with pro drivers Mark Ticehurst and Owen Mildenhall in car 53 and 17-year-old kart racer Jade Paveley and me, in car 54.
We had a surprise visitor on Friday morning in the imposing shape of British Touring Car champion Matt Neal, a friend of Jade's family, who gave us a tour of the track to discuss the intricacies of two of the more difficult corners where you can gain or lose a lot of lap time at Snetterton – the Esses, and Russell chicane.
Matt explained that self-discipline was the key and told us it was easy for even him to allow himself to use the wrong line in a race. It was all good stuff, but it was soon time for Jade and I to try and put into practice Matt's words of wisdom.
Instead of the set practice times, the Britcar organisers declared an open pit lane for the day, which meant we could get in plenty of laps in preparation for the race the following day.
Owen took our car out first to bed in the new brakes and make sure everything was ok with the car. Jade and I were tasked with a long fuel run to establish the car's economy, or lack of it, in race conditions, so we took it in turns at the wheel, doing 10 laps at a time until the fuel ran out. We were also running on soft compound tyres so the team could assess their degradation, and try to understand whether they would take two hours of abuse in a race.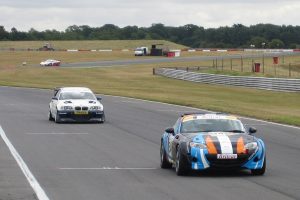 Driving in the Britcar championship can be quite intimidating for new-ish racers. Our MX-5s are virtually standard, apart from race spec brakes and slick tyres – yet we were on track and eventually competing with some serious cars, everything from race-spec Porsche 911s, to Ferrari 430 Challenge cars, Marcos GT3s, Porsche 997s, BMW 3-Series, a TVR Sagaris, a superb looking Ford Mustang FR500GT and the beautiful new Lotus Evora which looked stunning in its green and gold colour scheme. Other cars I didn't recognise, looked like the sort of machines you see at Le Mans – and all of them were disturbingly faster than our little MX-5. The closing speeds on the track were daunting, but thankfully, most of the drivers gave us just enough space, but their superior performance meant that in the race we would be lapped every four or five laps, despite the fact our little Mazda was hitting almost 120mph on the back straight.
As the car was nearly out of fuel, it was my turn on track. I was told to drive it hard until the fuel light came on, do two more laps, then pit. I did exactly that, and after a brief discussion, I was sent out again to do an out lap and an in lap. I did that, and was then asked to run it out of fuel.
"As soon as it coughs, just try and get it back," said Sam, our team manager. I wasn't happy – the thought of running out of fuel with the car hooked up in the long, high-speed Coram corner, or with a GT car sitting on my bumper, wasn't my idea of fun! Fortunately for me, the engine cut out exactly two laps later, as I approached the last corner, and I managed to dip the clutch and coast into the pit lane, much to my relief – and the delight of the team. I didn't fancy being responsible for a red flag stopping the session!
Towards the end of the afternoon, ex-Formula One and Le Mans driver Mike Wilds joined the team in our car to get a feel for the little Mazda, as he would again be driving in the 24-hour attempt at Silverstone. Mike is one of the country's top race instructors and was only too happy to help Jade and I with our racecraft. He's a lovely man and it was an honour to share a car with him.
Next week: Find out how we and the little MX-5s fare in the race.