Adam Garcia talks about his driving exploits – so far
West End tap dancing star Adam Garcia, a judge on Sky 1's popular Got To Dance show, reveals nearly all about his motoring career – so far. He is also the brand ambassador for Mune – a new daily immune health shot.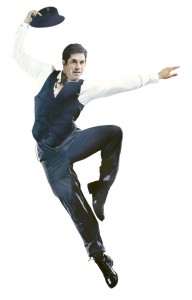 What was your first car? How much did you pay? Why did you get rid of it?
A white Triumph Mk2 which I bought from my brother for 50 dollars when I was 16. Before that it belonged to my cousin and before that, to my grandmother. I think it was on its last legs when I got it as the engine blew up shortly after.
What do you drive now?
I've had a Honda Civic Hybrid since 2003 which I drive in America. It's a really great car. I get 43mpg and it came with a tax rebate as it was one of the first Hybrid cars on the market. I don't drive in London because it's too expensive to park.
Do you chalk up many miles?
I drive about 10,000 miles a year.
Would you replace a punctured tyre or call for help?
If I had a spare tyre I would always change it myself. I normally carry a car jack.
Most embarrassing moment behind the wheel?
I was 18 and the designated driver for the night. My friends and I were on our way to celebrate a pal turning 18 at a local club. The road was wet, I was young and I didn't yet know what happens when you take a corner too fast on a slippery road. I skidded, overcompensated and crashed my brother's car into a butcher's shop window. We were all ok and the car just had a minor dent – but the most embarrassing thing was that it happened right by the queue to get into the nightclub where everyone was watching. I still get ribbed about it today.
Scariest moment on the road?
I was filming in North Canada and driving along a two lane highway packed with huge trucks. The conditions were icy. I suddenly hit black ice and the car started sailing towards the path of an oncoming truck. I'm still not quite sure how I managed it but luckily I slid the car to the side of the road.
If you could be in charge of transport policy for the day what would you change?
I would reverse the privatisation of the London Underground. It is far too expensive. I would also tell tourists to buy an Oyster card.
Who would be your dream passenger and who would you leave stranded in a lay-by?
The American writer Hunter S Thompson who is best known for his 1972 account of a drug-addled Nevada road trip. And I would leave Jordan stranded in a lay-by.
What is your favourite car?
A P1800E Volvo. I love classic cars and this is just like the one that Roger Moore drove in the Saint.
Dream car? – I would love a Mercedes Gullwing. They are a classic 1950s car.
Favourite novelty car of all time? – It has to be the Robin Reliant – such a brilliant car.