IN A big pointer to its models of the future, Ford will be unveiling its Evos Concept at the Frankfurt Motor Show.
The Evos represents Ford's new global design strategy and features technologies of the future it expects to be part of new models and forms part of the company's One Ford product plan.
"The Ford Evos Concept unites three key elements which are at the core of our One Ford global product strategy: Outstanding design, smart technologies and fuel economy leadership," said Derrick Kuzak, group vice-president of Global Product Development.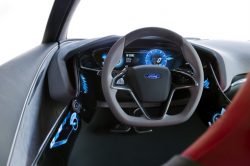 "With its compelling design and innovative technology experience, this is a clear demonstration of the exciting vision we have for the Ford brand. While you will never see this car on the road, the next generation of Ford products around the world will display many of the distinctive design ideas and advanced technologies it showcases."
The Evos is not just a design exercise. "Our goal is to focus on enriching a customer's every experience with their vehicle – by personalising it, adapting it, and creating unique, unexpected features that surprise and delight them," said Kuzak.
"In the Ford Evos Concept, this objective is explored and extended to the area of connectivity, where the intent is not to convert the vehicle into a smartphone, but rather to provide personalised and safe connection to the outside world in an enriching manner designed totally for the vehicle context."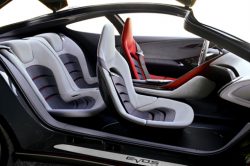 Ford's global Research and Innovation team, led by Paul Mascarenas, was tasked with building a technology experience as visionary as the design.
"The possibilities are fascinating when we explore how to enable a seamless lifestyle between home, office and car linked by access to the driver's personal information," Mascarenas said.
With information from the cloud, the vehicle can provide the same connected lifestyle the driver experiences at home or office. The car knows the driver, and automatically adapts handling, steering and engine controls to deliver an exceptionally dynamic driving experience.
Ford researchers are focusing their efforts in this area to deliver on four key customer benefits: Personalisation, seamless enhancement of the driving experience, looking after the driver's well-being and delivering smart electrified powertrain optimisation.
Current technology requires vehicle chassis settings to be defined based upon the abilities and tastes of a cross-section of drivers. The concept foresees tuning handling and performance to the road and the individual behind the wheel.
Learning driver habits and capabilities, the technology can overlay map and weather data sourced from the cloud to adjust powertrain, steering, suspension and braking systems.
Completing the vision for the Evos is a state-of-the-art lithium-ion plug-in hybrid (PHEV) powertrain providing the same next-generation performance and fuel economy as the Ford C-MAX Energi scheduled for introduction in North America in 2012 and Europe in 2013.
Ford 'powersplit' hybrid architecture allows the electric motor and petrol engine to work together or separately to maximise efficiency.