ROAD TEST REPORT AND REVIEW: Peugeot 3008 HYbrid4 99g

With an electric motor at the back, and a diesel at the front, KEITH WARD reviews Peugeot's 3008 HYbrid4
THIS was launched as the world's first full diesel-electric hybrid car – previous hybrids had mated generally thirstier petrol engines with an electric motor.
Peugeot's HYbrid4 throws in a punchy performance, a 70-plus official mpg rating, free annual tax disc and selectable four-wheel-drive. You begin to see shimmering before you a glittering, gold-medal package.
There are anti-factors to take off some of the shine – mainly a hefty purchase price more easily borne by the perk-rich business user than the private buyer – but this automotive ground-breaker still commands consideration.
First, have no qualms that electric propulsion will attract skittish remarks about milk-float motoring. It's true that at ignition switch-on there's a barely audible hum, akin to that from a household fridge, accompanied by the swing of a needle on the circular power gauge on the dash before you and the glow of a message: zero emissions.
That will remain until the diesel kicks in. But even that is rated at just 99 g/km, so no VED tax disc to fork out for and no congestion charges. (An even cleaner 91 g/km unit has recently become available).
A 37 bhp electric motor with its own battery pack is turning the rear wheels. Standing by to power the front pair is the 163 bhp diesel. A combined 200 bhp signifies this is no slouch.
A tastefully furnished cabin features, alongside the central gearstick for the six-speed robotised box, a circular selector, Range Rover style. It offers four settings: automatic and im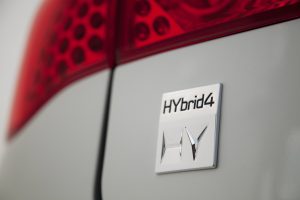 pressively smooth linking of the front-mounted diesel engine and rear electric motor; sport mode favouring quicker gear changes at higher engine speeds; ZEV or all-electric mode for low-speed city driving, with the engine cutting in only when called upon to recharge the battery and fourthly, 4WD with the rear wheels driven by the electric motor and the front by the diesel engine.
It remains to be seen how efficiently this 4WD fares on snow-covered Pennine roads in winter in the eyes of firm front-drive fans and an expanding lobby for winter tyres rather than any 4WD system.
What the Sport mode did, apart from promoting even more spirited motoring from the 2.0-litre, was to ease but not entirely eliminate the neck-jerking, lag-prone gearchanges from the robotised six-speed box, also recently experienced with the non-hybrid, less powerful 112 bhp, 1.6 diesel in an otherwise enjoyed  3008 Allure e-HDi. The latter is priced at £22,545 against the HYbrid4 at upwards of just under £27,000. The full 3008 range starts from £15,995.
The hybrid's electrics help to add 182 kg weight, without incidentally detracting from the car's handling.  Nevertheless it sprints to 62 mph in 8.5  seconds against the Allure's 14.0 and gave us 48.6 mpg against 43.4 mpg during a week's varied motoring in each.
Both versions are comfortably furnished for family transport, with wide door pockets, a cavernous central locker  – a pity it is side-hinged in favour of left-hand drive – and a horizontally split tailgate. Housing the electric motor below the boot floor reduces the HYbrid's luggage capacity, but it remains generous.
For the money, the HYbrid4 does come with dual zone climate control, cruise control, electric windows and folding mirrors, rear parking aid, automatic headlights and wipers and LED running lights. A £1,465 extra fitted to the test car was Peugeot's Connect media and navigation pack with Bluetooth, music hard drive, seven-inch colour screen and a useful head-up display of your speed on a ghostly perspex screen rising out of the dashboard.
Back to earth, that price premium for the HYbrid4 helps to explain why Peugeot predict two thirds of sales will go to business users.
Rating:
THE VITAL STATISTICS
Model: Peugeot 3008 HYbrid4 99g
Type: SUV Crossover high-stance hatchback; five doors; five seats
Engine: 2.0-litre front turbo diesel plus rear electric motor; 6-speed electronic box.; stop-start; selectable 4WD
Power: 163 bhp @ 3,850 rpm (diesel); 37 bhp/27 kW @ 2,500 rpm (elec motor)
Torque: 300 Nm @ 2,000 rpm (diesel); 200 Nm @ 1,290 rpm (elec motor)
Performance: 118 mph; 0-62 in 8.5 secs
MPG: On test 48.6; official combined 74.3; tank 57 litres
CO2: 99 g/km; band A; VED disc Nil; BIK 10%
PRICE: £26,995 plus options as tested – 3-D Media Navigation pack £1,465; metallic paint £440